As an Amazon Associate I earn from qualifying purchases.
One of the factors in any tennis match that can either make or break a player is the footwear the person wears. Obviously, you cannot just randomly pick one to use it in an important match.
There is a whole different industry that is involved in the production of shoes meant just for the tennis sport. So, before you grab one carelessly, make sure to know the types of tennis shoes so you can get your ideal pair.
You will find a variety of tennis shoes on the market. Let's know what makes them different.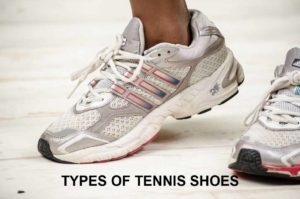 Court Based
Because of the differences in several courts on which the game is played, manufacturers have designed shoes that can go along with each of them. That is the reason why the tennis court plays a big role and that you should take it into consideration when looking for a pair. Typically, there are 3 different types of shoes that have been designed on the basis of court surfaces. Hardcourt tennis shoes, clay court tennis shoes and grass court tennis shoes. Let's know about all 3 of them in detail:
Hardcourt Tennis Shoes

Hardcourt tennis shoes sometimes are regarded as neutral surfaces. It can be called a mid-point between grass and clay surfaces with references to bounce and ball speed off the court. Such types can go well with different styles of playing. If you are someone powerful and fast player, you will love to have a hard court pair.
These types come with extra protection for your joints and feet since they can be hard on your feet because of the hard surface. Hence, you can expect the outsole to be tougher than other types. They also tend to have more cushioning as well as shock absorption. So it can be said that the extra padding can make the shoes a bit heavier than the other.
Apart from cushioning, hard courts should also have a bounce-back system since the hardness of the surface can be unforgiving on your legs and feet.
Besides, they also should have tough upper so it can provide you with stability while you are moving around the court.
However, since the sport is played with changing directions, the pair is likely to be scratched more easily. That said, you can still enjoy their resilience as the majority of the models offer durability wear guarantees of six months on the outsole.
Here are some of the list of the best hard court pairs:
For Men:
Asics Gel-Solution Speed

New Balance Men's 696v3

Adidas Men's Game court
For Women:
New Balance Women's 896v3

ASICS Women's Gel-Game 7

Adidas Women's Gamecourt
Clay Court

Tennis Shoes

Clay court tennis shoes are much softer than the previous type. The majority of these types are generally designed with a herringbone tread pattern that will not clog with clay. The grip in these shoes is great enough to allow for sliding. And since the dusty court won't offer much traction and tend to be slippery, the shoes are meant to be grippy.
The upper is mostly made of synthetic material which can last longer since the clay court will not be as much hard as the other type. Plus, you will find the shoe much lighter in weight because you won't be needing extra protection from such court. Because of coming in a lightweight, you will find them offering great speed and maneuverability.
The most suitable style that goes along with clay-court pair is the baseline play as the shoe tends to be on the slower side. The player with lots of power can stand back and unshackle some great shots.
To add more, such type is expected to offer lateral support and stability. Because the game will be requiring you to move side to side along the baseline before setting your feet for the shot.
You can expect the shoes to have outsole designed in such a way that can help release the clay from the grooves and that it won't leave marks on the court as well.
The sides of the shoes are made durable so that the pair do not get damaged while sliding for a ball.
Here are some of the list of the best clay-court pairs:
For Men: 
ASICS Men's Gel-Resolution 7

Adidas Men's Solecourt Boost Clay

New Balance Men's 996v3
For Women: 
ASICS Gel-Court Speed Clay

Adidas Women's Solecourt Boost

ASICS Women's Gel-Challenger 12
Grass Court Tennis Shoes

Since grass is more exposed to the dew, the surface can be potentially slippery. Because of this, grass-court tennis shoes come with a nub patterned sole that helps in providing you with better traction on such slippery terrain.
They also offer a necessary grip on the court. Their treads can be a bit shallower as it can prevent denting the surface.
Such shoes also have more of a flatter outsole. It helps in keeping the court from getting damaged. However, the outsole does not need to be solid durable because the court will be softer under the feet. So, it will not damage the shoes as much as the clay or hard surfaces.
The uppers of these shoes are usually fabricated with the combination of synthetic and mesh. You will find them flexible enough to not feel constricted while you run towards the ball.
Like clay courts, these shoes designed for grass-court tend to be light in weight. So, you will love to move with the pair for a longer time like a breeze.
On grass courts, serve-and-volley players tend always to perform great, thanks to the ball speed off the court. The shoes can reward players with a big serve as well as the ones who can get to the net quickly.
If you aren't planning on playing over a specific court or playing professionally. Grass courts can be a good bet.
Here are some of the list of the best grass-court pairs:
For Men:
ASICS Men's Gel-Game 7

NIKE Men's Court Lite

Adidas Men's Approach
For Women:
Prince Women's T22

New Balance FuelCore Nergize V1 Women

ASICS Gel-Solution Speed 3
All Court Tennis Shoes

As the name implies, such a pair is ideal for different courts. The bog plus of the type is that they offer long-lasting outsoles for which the majority of the players wish to prefer them over others. Most of the pair comes with a herringbone pattern that offers great traction on all the courts. Although they are designed to handle the subtleties of different surfaces, they are not ideal for wet grass surfaces.
Brands like Adidas, Nike, Babolat and Asics, own the best all-court pairs to offer. Here are some of the list of the best ones:
For Men: 
Babolat Men's Propulse Fury

ASICS Men's Gel-Dedicate 5

adidas Barricade Classic Wide 4E
For Women: 
Babolat Women`s Jet Mach I

adidas Women's GameCourt

ASICS Women's Gel-Dedicate 6
Upper-Material Based
Types of tennis shoes can vary depending on the construction and material. Although materials are preferred on the basis of court factor since each perform better on a certain surface, foot shape and personal preference also play a key role in this case.
Canvas Tennis Shoes

It's a coarse cloth fabric made of hemp which isn't only used in the construction of shoes but also other stuff including painting canvases, tents, sails etc.
The canvas shoes are an extremely basic form of footwear. They are constructed simply with a rubber sole and canvas upper.
Such a pair tends to be lightweight and super breathable. They don't always have the best integral support, but their performance makes them great anyway. You just need to make sure to not wear them in winter because that's not advisable. For the summer tennis match, they make an ideal choice.
Also, they are called perfect to be used for practice or entertainment purposes and not for the professional match.
Here are some of the list of the best canvas pairs:
For Men: 
Converse Men's Chuck Taylor

BATA Men's Tennis Canvas

Sperry Men's Striper II Salt Washed
For Women:
KEEN – Women's Elsa III

Lugz Women's Clipper

Sanuk Women's Pair O Dice
Leather Tennis Shoes

Leather shoes belong to the most advantageous group. The upper made of leather offer the best support for both lateral as well as back and forth movements. The genuine leather can last longer than the majority of other materials used for shoes. And high-quality shoes can stay stronger against harsh use. So, no matter if you play tennis on hard or clay court, it will withstand shocks.
Such material also makes a good pick because of its flexibility and ease of movement it offers. You can stretch it as much as you can without even tearing it.
Leather also tends to breathe, which means, it lets air pass through the material. And since it offers great breathability, you can expect it to keep your feet dry and cool. Not just that, it will also help stop your feet from smelling. To add more, leather offers great moisture resistance.
However, leather shoes can be pretty expensive. So, if you want a cheaper alternative, then you can go with Vinyl tennis shoes since they offer almost similar perks.
Here are some of the list of the best leather pairs:
For Men:
Cole Haan Men's Grandpro

New Balance Men's mc806

adidas Men's Approach
For Women:
NIKE Women's Court Lite

K-Swiss Hypercourt Express

New Balance Women's WC696
Polyurethane Tennis Shoes
This is a synthetic material that is also known as PU leather or simply PU. It is a manmade combo of 2 layers: an outer layer attached to a backing layer made of polyester fiber.
You will get the best support from tennis shoes that are made of synthetic material. They are pretty heavy, but their stability is awesome. Another great perk of such shoes is that they fall more on the reasonable price range, making them ideal for people with a tight budget.
As for the durability and quality, they are determined by the process and composition of the material. If a producer uses higher quality synthetics, you may have a perfectly smooth surface. Still, if it's lower in quality, the result will completely be the opposite of showing wrinkles and creases.
However, although you can use the shoes on different courts, best will be to use them on grass or clay surfaces. This way, the floor won't be a reason to degrade the condition of the shoes quicker.
Here are some of the list of the best leather pairs:
For Men:
adidas Men's Barricade Club

Nike Air Zoom Vapor X HC

HEAD Men's Sonic 2000 MID
For Women:
ASICS Gel-Resolution 6

adidas Women's Adizero Club

K-Swiss Women's Hypercourt Express
Difference Between Tennis Shoes and Sneakers
Although both tennis shoes and sneakers are stated to be footwear designed exclusively for tennis, there are some factors that make them different from one another.
Tennis shoes come with certain technical specifications in their weight, breathability, the flexibility of their soles, type of support offered, and whatnot. They are designed to enrich your ability as a player on the court so you can move around efficiently and change direction quickly. The most key factor that makes tennis shoes different from sneakers is the upper material. While different materials such as leather, synthetic, textile etc. used for upper refer to tennis shoes, sneakers conversely have the basic design with a canvas top. You can use shoes for professional purposes while sneakers are great for practice or a friendly match.
Wrap up
Well, it will be wrong just to say that you can wear tennis shoes for sports purposes only. There are different people who find them ideal for different purposes. The support and flexibility of the tennis shoe offer are splendid.
However, if you are planning to grab a pair, make sure you note down your requirements and court where you will be playing and then go with the one that matches them all.
And since we have highlighted different types of tennis shoes over here, hopefully, it will be easier for you to choose a perfect pair.