As an Amazon Associate I earn from qualifying purchases.
Babolat is such a brand that offers equipment mostly used by the top tennis players. And we guess, it already gives you a positive vibe about the company right? So Babolat-Pure Strike 16/19 review is perfect for the professionals.
If you are an intermediate player who wants to strike the ball professionally or a professional who wants to hit the ball accurately no matter how small the sweet spot is, then we have something for you.
Out of several options, Pure Strike has been found to be a racquet impressing different users with different features.
And for this, we thought that players seeking for an ideal racquet should definitely know about this great model.
So, here we present our Babolat-Pure Strike 16/19 review with great features and specifications.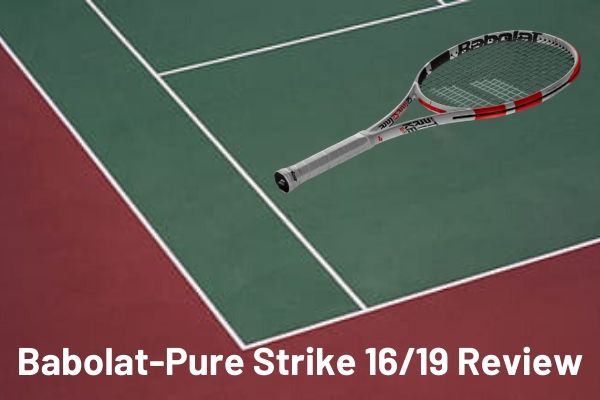 Features of Babolat-Pure Strike 16/19
If you are a beginner then you can go through our article best tennis rackets for beginners or best tennis rackets for women.
Design
One of the reasons to have this Babolat-Pure Strike 16/19 review is its design. It comes with Woofer Dynamic String System. It's a technology that helps frame and string interact so that the latter can get easier to move independently. As a result, you will be provided with an amazing trampoline effect or power as well as shock absorbency.
Babolat has designed the racquet with a hybrid frame. It combines elliptical and square shapes so it can offer power, balance, responsiveness, and accuracy.
With technology like Frame String Interaction, you will also get to enjoy playability and spin, thanks to a lower density string bed.
Materials
Material plays an important role in determining the quality of the racquet. As for Pure Strike by Babolat, the frame has been made of graphite material. This material is more on the heavy side, so you may find it a little bit hard to swing it through the air. However, you can still manage to power serve but it won't be an easy one. That's why it is more popular among intermediate and pro players since they would be more used to playing with a heavyweight racket.
A little con with the graphite material is that it can drain you down easily with its heaviness. So you may feel fatigue and pain in your wrists and forearms. Hence, a couple of beginners may not like it.
That said, the graphite material frame can make you serve the ball at a higher impact. As a result, players will love to enjoy their extra power. And since the material is solid, it is meant to last longer as well.
For the strings, the brand used synthetic gut material. It is basically a nylon material that is great for its high quality. It is able to last longer than many other strings of a different material. Although, it's the chemical composition that decides whether the string will the softer or firmer.
Weight
Babolat-Pure Strike weighs around 306 grams and that too unstrung. However, the racquet comes to unstring with strings so you may need to set it up for the play. And since the strings add more weight to the body, it would weigh around 321 grams in total.
So, you can say that the racquet will be heavier in weight. But let's just look at the positive side. The heavier racquet means you will get to enjoy powerful smashes and clears. So, it can be a great pick for players looking for this feature.
Not only that, Pure strike also offers stability due to its heavyweight. The more stable it will be, the lesser the ball impact affects it, hence the better control you will get to enjoy. That's the basic rule of thumb.
Size and Length
Babolat-Pure Strike features a midsized plus head coming in 98 square inches. Although it does not have as much big of a sweet spot as the oversized head would have, you will be happy.
The size of the head still manages to have a decent-sized sweet spot to make you strike the ball effectively. You will love to get more spin and control with the strike and yes, there will be way less mishits. And that's a big reason why we gave this Babolat-Pure Strike 16/19 review a shot.
To add more, this racquet has also helped many players be accurate with their shots because of the head size. So, if you are an intermediate or pro players who want to own the match, this can be a great pick.
As for the length, the Pure Strike comes in 27 inches long. It means you will also be provided with more reach.
Head Balance
Babylot has equipped the racquet with head light balance. It means the weight has been given more to the shaft. Coming
with a lighter head means the frame will be very maneuverable at the net. And you can handle the shots effortlessly.
Moreover, if you are into playing double formats, you can give this racquet a try. Although its heavyweight makes it difficult to maneuver, but you will be able to swing the head easily through the air.
Not only that, Pure Strike also impresses greatly with its stability and control. If you have an amazing footing on swing speed, this racquet is made just for you.
Grip and its Size
The grip feels amazing. You will love to hold the shaft with grip, thanks to the high quality and comfortable Skin Feel material.  Even if your hands get sweaty, the racquet will not slip through the hands.
Moreover, the grip comes in 4 1/4 inches according to US size and 2 according to Euro size. It is stated to be very ideal for players with small hands especially.
However, even if you have larger hands, you can add layers of grip tape for your convenience. So, this is not very a big con.
About Babolat
Babolat is a French sports equipment company founded in 1875 by Pierre Babolat. The company mostly manufactures equipment for sports like tennis, badminton, and squash. It is a very popular brand due to its high-quality tennis racquets and strings. A lot of top players tend to use the equipment of the brand for its quality and performance.
It is said that the company emerged with the production of strings when Pierre Babolat made the first-ever strings with the natural gut.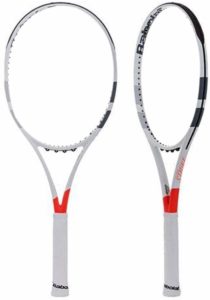 Advantages:
Frame and string interaction makes the head easier to move.
The trampoline effect is great.
You will be provided with enough shock absorbency.
The hybrid shape offers balance, accuracy, and responsiveness.
Offers powerful smashes and clears with a heavyweight.
Graphite material will be solid and durable.
Great for intermediate to pro players.
Heavyweight offers stability and control.
Midsized plus head offers spin and control with an accurate strike.
The head is easy to maneuver at the net.
Shots can be handled easily.
String quality is decent.
Great for double formats.
The grip is amazing.
Best suit the players with small-sized hands.
Disadvantages:
Heavyweight can cause fatigue and pain in forearms and wrists.
May not be very easy to maneuver due to weight.
May not be great for beginners.
Sweet spot is not very big.
May not suit the players with different sized hands.
Does not come pre-strung.
Frequently Asked Questions:
Q: Can you give me detailed specifications of the racquet?
A: Here are the detailed specifications of the racquet:
Head Size: 98 square inches.
Length: 27 inches.
Strung Weight: 320.4g; 13in / 33.02cm / 4 pts.
Head light balance.
Swing weight: 323.
Stiffness: 67.
Beam Width: 21.3mm / 23.3mm / 21.3mm.
Composition: Graphite.
Power Level: Low-Medium.
Stroke Style: Medium-Full.
Swing Speed: Medium-Fast.
Grip Type: Babolat Skin Feel.
String Pattern:16 Mains / 19 Crosses.
String Tension: 50-59 pounds
Q: What is 16/19 string pattern?
A: Pure strike comes with 16/19 string pattern that refers to an open pattern with less vertical and horizontal strings. Such a pattern will have more space, as a result, it will help add more spin to the ball. Contrary, denser strings can bite into the ball so it may not generate a lot of spins. However, open pattern can cause the strings to rip apart easily if players are hard strikers.
Q: Does it come strung?
A: No, the racquet does not come pre-strung.
Q: Is it ideal for beginners?
A: It may not be very ideal for beginners if they step out to get their first-ever racquet. This is a heavyweight model which means it will require more power to control and maneuver the racquet. Not only that, it also features a bit smaller sized sweet spot so an intermediate or pro player can get to enjoy using small-sized sweet spots for an accurate shot which beginners may not enjoy. As a result, we would recommend newbies to try it out to know if it suits them before planning to buy it.
Wrap Up
Although this may not be a very ideal pick for a beginner, intermediate and professional players would love to have it. The features already gave you reasons so we don't think that we need to give any more explanation. However, even if you are a beginner reading it, we would still encourage you to try it out before buying one. Who knows, you may find it perfect for yourself!