As an Amazon Associate I earn from qualifying purchases.
If you love playing tennis and those sweaty hands are not letting you deliver your best game, then you're in luck. We have picked the best tennis overgrips for sweaty hands so that you can play with your best potential. Without any further delay, let's look at our top picks.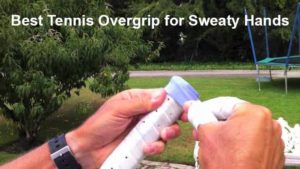 Our Top Picks
Tourna Grip XL Original Dry Feel Tennis Grip
Gamma Supreme Overgrip
Wilson Pro Tennis Racquet Overgrip 30 Pack
Yonex Super Grap Overgrip
HEAD Super Comp Racquet Overgrip
Tourna Grip XL Original Dry Feel Tennis Grip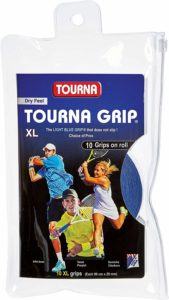 Tourna is a pioneer when it comes to tennis grips. Their grips are the top choices for many prominent players like Peter Sampras, Dominika Cibulkova, and many others.
One of the best features of the Tourna Grip XL is that it will get tackier as you sweat. This will let you have the ultimate control even if you sweat profusely. The grips come in Tourna's famous blue color with their registered trademark.
The grips are designed to maximize comfort and accuracy. It will also provide an extra texture that will let you have full control over the racquet. The lightweight texture of the grip will not add any extra weight to the racquet as well.
Each package comes in a pack of ten, so, you'll get to use the grips for quite a while. Also, the grips stretch easily which makes it easy for you to put on the handle. These tapes are suitable for tennis racquets, fish pole, golf grips, etc.
Pros
Gets tackier as you sweat
Comfortable to hold
Affordable
Comes in a pack of ten
Cons
Available in only one color
Gamma Supreme Overgrip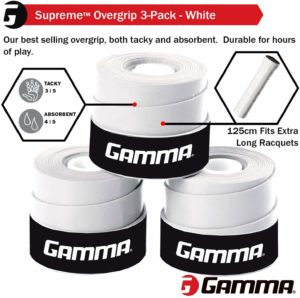 If you're picky about colors and you prefer something that matches your racquet then this baby is the one for you. It comes in 6 different colors giving you the freedom to choose your desired one.
Along with looks, it works well in terms of performance too. The grips are made with highly durable material and they'll last you quite a while. The grips in various pack sizes as well. You can choose from 3 packs, 15 pack and 30 pack options.
The grips provide excellent tackiness and absorb sweat to perfection. The length of the grips is longer than usual tennis grips out there. This will help you easily wrap it around even the extra-long handles.
The Gamma Supreme Overgrips also comes with a slight cushioning that gives the player better comfort and stability during the game. However, the grips are not suitable extremely humid weather. They're a good match for cold to mid-humid weather.
Also, don't forget to check my best tennis ball machine review here.
Pros
Comfortable to hold
Stretches well
Suitable for long handles
Comes in a variety of colors
Cons
Not suitable for extremely humid weather
Wilson Pro Tennis Racquet Overgrip 30 Pack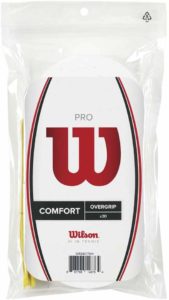 If you're into tennis then you're probably aware of Wilson and their amazing range of products. The grips are used by many renowned players like Roger Federer, Serena Williams, and many others.
It comes in a 30-pack set with three different color options. The price is a bit on the steeper side but the durability of the grips will make up for the price you pay.
The Wilson Pro Tennis overgrip is one of a kind and it's certainly one of the best in the market. This overgrip provides the ultimate comfort and they're extremely soft to hold. The grips are ultra-thin and stretchy so that you can easily wrap them on the handle.
The Wilson Pro grip is hard to beat when it comes to absorbency. It's made with a microfiber polyurethane material that absorbs moisture to perfection. No matter how sweaty your hand gets or how hot the weather is, you'll get to have the best grip throughout your game.
Pros
Comes in 3 colors
Highly durable
Suitable for all weather conditions
Used by many renowned players
Cons
Yonex Super Grap Overgrip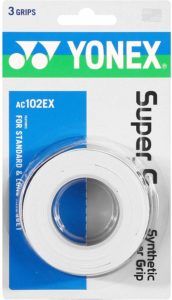 The Yonex Super Grap Overgrip comes in a myriad of color selections with the utmost amount of grip and tackiness. Each set comes in a pack of 3, so, you may need to buy the grips quite frequently if you're a regular player.
These overlaps are one the best tennis overgrips for sweaty hands out there and they're highly raved by many professional players. They also come in 8 color shades so that you can pick the best match with your racquet.
The grips are highly comfortable. The materials used to make grips provide remarkable absorption and they'll suck up all the sweat so that you can have a proper grip on the racquet. The grips also have shock absorption properties that help you have extra control over the racquet.
Pros
Comes in 8 different shades
Made with high-quality and durable material
Shock absorption properties
Lightweight
Includes grip tape
Cons
Slightly thick texture
Each pack comes with only 3 overgrips
HEAD Super Comp Racquet Overgrip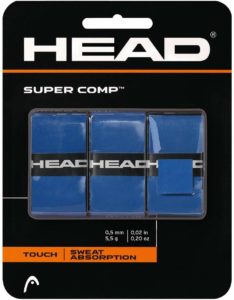 If you're looking for a high-quality overgrip at a budget-friendly price then look no further the HEAD Super Comp Racquet Overgrip is the one for you. It's made with elastomer material that provides an excellent grip even in the hottest weather.
This overgrip effectively absorbs sweat and moisture. It'll keep your hands dry and let you play with superb accuracy. Also, the grips come with adhesive ends that will help you easily wrap the grips around the racquets handle.
The Head Super Overgrips come in a pack of 3. Also, they're available in three colors to match your racquet to perfection. The grips have a thin texture which ensures that you feel ultimate comfort during the game. No matter how the weather condition is, the racquet will never go off your hands.
Check Our best tennis strings review here.
Pros
Suitable for hot and humid weather
Thin texture with great comfort
Gives a dry finish
Absorb sweat effectively
Comes in three colors
Cons
May need to buy frequently as it comes in a pack of 3
Buying Guide: Factors to Consider Before the Purchase
Along with absorbing sweat, the overgrip should also provide you comfort so that you can play with the utmost accuracy. You need to consider the following factors before you make the purchase so that the overgrip enhances your performance.
Tack
The tack of the overgrip refers to the stickiness of the overgrip. As you sweat, the overgrip tends to get sticky which helps the player to hold on to the racquet handle easily. Some overgrips tend to lose their tack after a while.
Make sure that the grip you opt for comes with your desired level of tackiness. However, if you're not a fan of tacky overgrips then go for the ones that offer a dry finish.
Absorbency
It's common for the hand to get sweaty during the game. However, excessive sweat will deteriorate your performance as you'll not be able to hold on to the racquet properly.
An overgrip with a high level of absorbency will easily suck up the sweat and moisture. This will ensure a dry feeling and enable you to have a proper grip on the racquet. Also, the absorbent overgrips usually have a soft spongy structure that will provide extra comfort.
Cushion
The cushioning of the overgrip helps to reduce the vibration. The cushion helps to absorb the shock from the ball as it hits the racquet. This will help you play with great efficiency as well as accuracy.
However, excess cushioning may feel a bit weird if you're not comfortable with it. So, before picking up the overgrip, make sure you're comfortable with the finish and the level of cushioning.
Frequently Asked Questions
Q: What are the different types of overgrips out there?
Ans: The tennis overgrips come in a variety of different finish and comfort level. The tacky grips get sticky as you sweat and they help you hold on to the racquet. The dry overgrips absorb sweat and provide a dry finish which is an excellent choice for people who tend to excessively sweaty during the game.
Q: How many grips come with each package?
Ans: The number of grips on each package varies and it depends on the manufacturer. We have reviewed different sets with 3 pack and some of them even come in a pack of 30. If you're a regular player then we recommend that you opt for a larger pack.
Q: Can I use the overgrip on extremely hot weather?
Ans: The dry overgrips are best for people with sweaty hands even in extremely hot weather. The dry overgrips absorbs the moisture and helps to keep the hands dry.
Q: How long will an overgrip last?
Ans: This depends on quite a lot on your playing style and how often you play. If you play regularly or play rough then you'll need to change the overgrip more frequently.
Final Thoughts
Having a proper grip on your racquet will improve your game and help you play with better accuracy. All the overgrips that we reviewed are excellent for absorbing sweat and they're the best tennis overgrips for sweaty hands in the market.
So, give one of these a try and take your game to the next level.