As an Amazon Associate I earn from qualifying purchases.
People tend to opt for a good racquet and usually overlook the importance of a good string. Having the right string is a total game-changer. It will enhance your performance and also help you develop your skills. Our best tennis strings review will help you to select the best string for your racket.
With so many different types of tennis string, many out there have trouble choosing the right one. Well, we have carefully scrutinized the market and picked some of the best tennis strings in the market. All of these are made with high-quality material and they'll help you to take your game to the next level.
Let's take a look at our top picks for best tennis strings out there.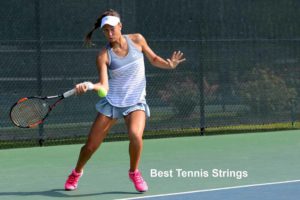 Our Top Picks
Solinco Hyper-G Heaven High Spin poly string
Babolat RPM Blast Black 17g Strings
Wilson Champions Choice Duo Tennis String
Luxilion ALU Power 125 Tennis Racquet String Set
Head Synthetic Gut PPS Multifilament Tennis Racket String
Babolat Combo Pack RPM Blast 17 Plus VS 16 Tennis String
Solinco Hyper-G Heaven High Spin poly string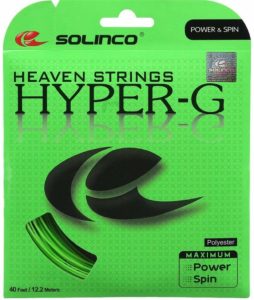 Key features
Square shape string
Made with co-poly material
16 to 20 gauge of thickness
Comes in cool highlighter green color
The first model on our review of the best tennis strings is Solinco Hyper-G. It's a really cool kind of highlighter green color with a pretty decent price point for a poly somewhere around 11 to 13 dollars depending on where you go.
This string is developed with the assistance of top touring pros. It brings a slightly softer feel and added full pocketing to Solinco's lineup. The majority of the players quickly fall in love with this one thanks to its great control and spin.
Hyper-G matches perfectly with your game because of its comfortably firm string and it has tons of controls. You can hit out as hard as you want while still having control over the ball and the ball will land right on the baseline. Also, it has tons of grips so when you'll need spin, it'll be there.
One demerit of the string is that it did lose tension faster than some of the other premium polyester strings out there. If you want something that will last a very long time then you should probably look at some other polyester strings.
Overall, it's one of the best tennis strings out there that is super comfortable, low-powered and controlled oriented.
Pros
Great feel and control
Four edge string design
Easy on the arm
Cool green color string
Cons
Babolat RPM Blast Black 17g Strings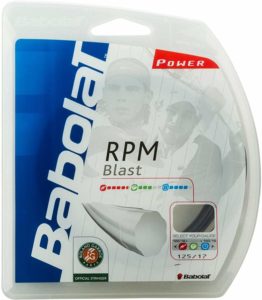 Key features
Octagon shape string
Made with co-poly material
Comes in black color
17 gauge
The RPM Blast tennis string by Babolat remains as one of the most popular and well-liked strings among all types of players. It doesn't matter whether you're a novice player or not, you'll appreciate the comfort, control, and feel.
The string of choice for Rafael Nadal and Jo Wilfried Tsonga, Babolat RPM Blast is an extremely playable and durable co-poly. The outer surface of this string is very sleek, causing the string to slide against itself upon impact and then snap back into place quickly.
It has an octagon shape instead of a round shape that helps you to get more spin. The ball can pocket longer because the strings have to move further more surface area. Also, a silicone coating over the octagon shape provides even greater distance movement and better snapback.
This is a unique co-poly. It feels really stiff if you're taking a shorter stroke at the ball, but as soon as you amp up the swing speed you'll feel the string flying on itself. Though it's pretty stiff, however, you'll get a lot of control.
Overall, this a number one best selling string on the market and the string choice of many touring pros, most notably Nadal who just won his 18th Grand Slam title using RPM Blast.
Also, don't forget to check my best tennis ball machine review here.
Pros
Soft on the arm
Great control and comfort
Ideal for all types of players
Unmatched spin potential
Cons
Wilson Champions Choice Duo Tennis String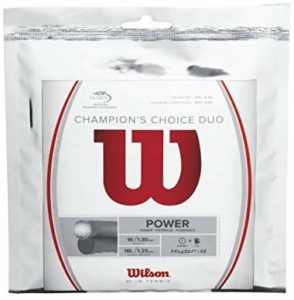 Key features
Round shape string
Made with polyester and natural gut material
Both string measures 20 feet
16 gauge
The Champions Choice Duo tennis string by Wilson is a perfect balance between the natural gut and the rougher polyester. It's a hybrid of two premium strings, Luxilon Alu and Wilson Natural. A hybrid string means one type of string is used for the mains and a different string for the crosses.
You can mix any two types of strings of your choice. However, the strings that have been used are Luxilon Alu which is a polyester material with a textured surface to provide you added spin and control, and Wilson Natural which is a high-quality natural gut fiber with long-lasting weather resistant coating.
Moreover, if you combine these two fundamental types then this string ranks well among all aspects of performance which includes comfort, durability, power, control, and touch. The hybrid string helps you to get even more flexibility and options when stringing.
Overall, it's not only the best string for control but also excels in other categories. Those who are willing to invest in their game the Champions Choice can be a great option. Moreover, apart from everything this string is used by world no. 1 Roger Federer.
Pros
A mixture of two premium strings
Used by champion Roger Federer
Best string for control
Flexible
Cons
Luxilion ALU Power 125 Tennis Racquet String Set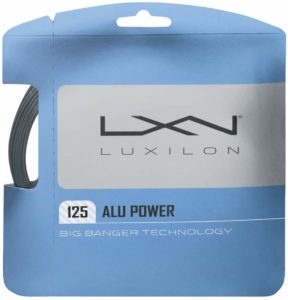 Key features
Textured and rough shape string
Made with polyester material
16, 17 gauge
There is a motivation behind why Wilson is one of the most well-known tennis hardware makers and that reason is they placed a great deal of effort into the structure and testing of their items. This fine tennis string is a demonstration of that reality.
This fine tennis string is made utilizing generally fluorocarbon resin fibers. These sorts of fibers are known for helping you gain improved ball power on your shots and a superior vibe for what you are doing when hitting the ball. There is also a couple of aluminum fibers blended in with this string so you don't sacrifice any power for the expanded ball control you get.
There are so many things that are jaw-dropping about this tennis string, but one thing that sticks out above all the rest. What we like best about this tennis string is that over 50% of professional players use this which is something to strongly consider.
Apart from all these, the string has some areas that need improvement. It's very hard to handle while stringing. This is because the way it's packaged and also the color choices aren't good for some players. Overall, if you're a serious tennis player who wants to try a different string on your racquet then you can give this a try.
Pros
Used by over 50% of professional players
Excellent hybrid string
Maintains tension
Ideal for ball control
Cons
Hard to handle while stringing
Head Synthetic Gut PPS Multifilament Tennis Racket String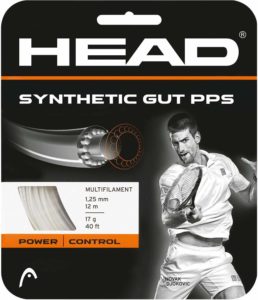 Key Features
Available in three colors
Made with solid nylon core multifilament
Wrapped with polyamide for better resistance
Provides excellent speed and control
If you're looking for quality string at a lower price spectrum then the Head Synthetic Gut PPS Multifilament Tennis Racket String is the one for you. Synthetic strings are a popular economical choice as they offer excellent durability. You can pair up the strings with any Head racquet or a racquet of your choice.
These strings come in three colors: black. White and golden. Also, the strings are available in both 16-gauge and 17-gauge variants. The strings have a solid nylon core with thick multifilament that enhances the durability of the strings to a great extent.
These strings are very responsive, and they are an excellent choice if you like to spin your shot. You'll also receive a higher level of precision and accuracy. The strings let you have the ultimate control over your shots as well.
The Head Synthetic strings are highly elastic and yet remarkably durable. This enables you to hit with the right amount of pressure while having the utmost precision on the shot. The core of the strings is made nylon filament that helps the player to make power hits and strikes.
Pros
Highly durable
Offers excellent elasticity
Ensures spins and power
Budget-friendly
Solid nylon core offers high durability
Helps to have control over the shots
Cons
Not suitable for novice players
Babolat Combo Pack RPM Blast 17 Plus VS 16 Tennis String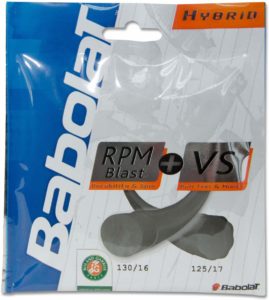 Key Features
1-meter spool
Made with high-quality natural gut
Used by many prominent players
Ensures both power and spin
Babolat needs no introduction when it comes to tennis strings. It's a top favorite for prominent tennis players like Rafael Nadal, Andrew Rodrick and many others out there. If you want to take your topspin to the next level, then these strings are the perfect ones to pair with your racquet.
The string is made with a high-quality monofilament that ensures power and spin on every shot. Also, the durability that the string offer is phenomenal and it'll surely last a long time. It comes in both 16-gauge and 17-gauge variants and each roll contain 6.5m of string.
The Babolat RPM Blast is made with a high-quality natural gut. The structure of the string is a bit on the softer side compared to the regular polyester strings. This will come in handy if you use a heavy racquet as the string will not weigh the racquet down or put additional weight on it.
This string has an octagonal profile that is excellent in generating spins. Also, the strings are absolutely fabulous when it comes to having control of the shot and its speed. If you want a long-lasting string with excellent power then the Babolat RPM Blast is the one for you.
Pros
Generates spin
Excellent durability
Lightweight
Suitable for making powerful shots
Cons
Not suitable for novice players
Buying guide
We have come up with a buying guide to help you select the best possible tennis strings for you. So, let's have a quick look at them.
Power
Some tennis strings return essentially more vitality when a ball is struck, making it simpler to create pace. Higher force strings will require less effort to make the pace, while lower force strings will require a greater amount of effort of the player.
Spin
There are so many factors that can impact spin, at the end of the day a few strings provide players with fundamentally more potential for producing topspin than others. Strings with high turn evaluations empower players to make more topspin, while strings with low turn appraisals will bring about less potential for the turn.
Control
The capacity for a player to direct and put the ball precisely and with certainty is commonly seen as control, particularly when taking large cuts at the ball. Force and control are opposite to each other. A lower power string will ordinarily provide players with more control while a powerful string will give players less control.
Contact/Feel
Most players partner in contact with feel, or the capacity to carefully and precisely place the ball with artfulness. A higher rating of touch will help give players a more noteworthy feeling of touch, while a lower rating will decrease contact and make it all the more testing to execute certain shots and in this way require extra concentration and consideration from the player.
Comfort
The measure of stun and vibration felt by a player when hitting with various strings will be seen as high or low comfort. Some tennis strings are better at retaining and decreasing stun and vibration, bringing about a more comfortable feel.
Toughness
The limit of a lot of strings to restrict mileage from hitting, dampness, garbage, changes in temperature, and so on that can at last lead to breakage or decrease the life expectancy of a string is referred to as toughness.
Playability length
The period of time a lot of strings can keep up strain and quality play is the playability length. A lot of strings might be profoundly strong and not break simply yet at the same time require frequent replacement to safeguard the nature of the strings' traits.
Movement
Strings that adjust back properly in the wake of hitting and don't move a lot or require consistent fixing will have higher movement appraisals. Strings with low scores will move impressively and expect players to fix them more often.
Price
Lastly, you should also consider the price when buying a tennis string as the price can vary depending on the material they are made out of and the brand. The price range for synthetic tennis strings is around 5 to 15 dollars and for a set of natural gut tennis strings, it should be around 25 to 50 dollars. Moreover, the price of the string can also depend on how thick or thin the gauge of the string is.
Types of Strings
Natural Gut
These are the first strings makers hung their racquets with once upon a time. Still mainstream in the advanced age, they are produced using characteristic material, for example, sheep gut. While some manmade strings come very close to coordinating their characteristics, nothing very feels the same.
A great deal of experts and tennis idealists loves utilizing common gut strings because of the blend of intensity, control, and turn. The normal material they are made contains these characteristics and explain why they offer this to your game.
The best models as of now are made by Wilson and Babolat. One of the drawbacks of these strings is that they aren't the toughest and can snap effectively. This basically implies you should go through more cash purchasing replacements and additional time fixing your racquet.
Moreover, these are ordinarily the most costly kind of string which might be a thought for certain players. Most pro players play with regular gut since cash isn't an issue. For all of us, it may not be justified, despite all the trouble.
Synthetic Gut
As the name would propose these strings are intended to give a similar vibe as natural gut yet are man-produced using Nylon. One of my preferred instances of this sort is the Prince Synthetic Gut string which is famous with frequent tennis players. These are the perfect strings for most of the players as they give a fresh vibe to your shots and great force.
This inside and out appeal makes them extraordinary compared to other selling kinds of string around and you will ordinarily discover pre-hung racquets are sold with Synthetic Gut strings. What's more, they are entirely playable and agreeable which makes them as near to natural gut as possible. Synthetic Gut Strings are also generally modest which a reward for the budget-conscious player.
While they offer more quality then regular gut they are not as strong as a polyester string so they will break more effectively than them. Although they come very close, they don't exactly give the vibe of a natural gut string.
Polyester
Polyester tennis strings are solid and hardened which can be perfect for players who break strings a lot with different materials, particularly experts. Another extraordinary element of Polyester tennis strings is that they give you heaps of topspin to place into your shots.
The results for this, however, are you lose a specific measure of feel in your play which may be a major thing for certain players. They can likewise lose strain rapidly which will influence the performance of the racquet if they're not taken care of once more. In case, if you're not cautious they can also be hard on the arm with being a bit stiffer.
Kevlar
The most recent improvement in tennis string innovation is Kevlar. They initially got well known with players searching for less breakage and strain misfortune during matches. Progressively, they have separated from novice players who value the advantages they bring.
These are incredible strings for the force and control they provide for your game. Tennis strings made out of Kevlar also give you loads of turn and make it simple to add it to your shots. The primary explanation behind utilizing Kevlar tennis strings is for their toughness. In case you're an interminable string breaker, these are the strings that will, at last, have the ability to be able to stay up with you.
The cost of these best tennis strings is normal compared to the others. One downside of their toughness is that they are very hard on the arm, so Kevlar strings aren't very appropriate for junior players or any individual who utilizes a tennis elbow support.
Moreover, the additional sturdiness comes to the detriment of the touch and feel of the racket being hosed.
Hybrids
Somehow or another, this isn't a string in its own privilege but a blend of two unique strings on one racquet. It is as yet worth considering however as stringing your racquet in this way can give you the advantages of each sort of string to suit your play.
While string this way you utilize one string going even which is known as the cross and the other going vertical which is known as the principle. Commonly, you would have a strong string as the main to diminish string breakage and an increasingly regular string on the cross for comfort.
The primary disadvantage with this strategy is that it is costly as you need around 20ft of each string to do it. It's likewise precarious to put on and tedious so you may require an expert to do it for you.
Does Weather Have Any Effects on Strings?
Temperature does affect the strings. The strings tend to shrink if the weather becomes excessively cold. Some strings are specifically designed for cold weather. So, if you play in an extremely cold area then we suggest that you opt for the strings that the made to suit colder regions. Also, the tension on the strings should be less so that they don't break when the when temperature drop.
On the other hand, warm weather is more suitable for playing tennis and you don't have to worry much about the string if you live in a warm area. However, the strings may expand slightly due to excessive heat. Keep the tension a little loose if you're playing a tropical region.
What is the Right Tension for Tennis String?
You must attach the string with the right tension. Otherwise, the string breaks or becomes too loose which is surely unwanted by every player. Having the right tension will let you generate spin and deliver each shot with maximum accuracy.
The tension rating is generally mentioned by the manufacturer of the racquet. So, following that will enable you to achieve better outcomes from the string.
For polyester go for the lower end of the recommended tension as they tend to shrink more. For synthetic or multifilament strings, for with the higher end of the recommended tension to achieve the best result.
Tips to Make the Tennis Racquet Last Long
No matter how great the string is, it will not work well if the racquet you use is in a bad shape. It's important that the racquet is in good condition to get the best performance from the string. We have come up with the simple tips that will help you take care of the tennis racquet easily.
Store Properly
Storage is one of the most important determinants of how well the racquet and the string will last. Always try to store the racquet at room temperature. This will help to keep it in good shape. Also, make sure that you never leave it out in the sun for too long as that will expand the string. Avoid leaving them out in the cold too because that will shrink the strings and make lead to breakage.
Restring
Restringing the racquet will enhance its performance and help you deliver your best too. A worn-out string will not work well and deliver a good outcome. Restring as often as required to speed up your games and skills.
Overgrip
Overgrips are extremely important as you'll be holding onto them throughout the game. Get a good overgrip that offers stability and control. Also, if you tend to sweat then get something that will soak up the excess sweat and leave the hand dry. This will help you play with the utmost efficiency and accuracy.
Also, many players prefer tacky overgrips. These overgrips become sticky as you sweat. Therefore, they stick on your hands and let you play effortlessly.
You can also check our article on best tennis overgrip for sweaty hands review here.
Final Words
Having the right racquet is surely important but you need to have the right strings to pair up with them. Many tend to overlook the importance of the strings. However, several crucial factors such as comfort, power, spin, etc. depending on the strings.
Choosing the right string can be a daunting task, especially when there are so many options available out there. We have reviewed some of the best tennis strings out there. Many of them are top choices by renowned players and rest assured that they'll help you take the game to the next level.