As an Amazon Associate I earn from qualifying purchases.
So let me guess, you are a beginner who's fascinated by Tennis. Tennis is considered to be the sport of skill, stamina, physical fitness as well game of mind. Most importantly, since you are reading this page it means you are hoping to get some expert opinion regarding some relevant instruments and/or machines. See, we do get you! The best tennis ball machine review will guide you to choose the right one for you.
Your days of worrying and indecisiveness are gone. You have just knocked on the right door at the right time because our door is always open for you and we are ready to give you a tour of this world of the best tennis ball machines available to improve your game.
Now, since we do understand what you are looking for and we sincerely care for your requirements, so just sit back and relax, because we are going to enrich you with some of the best possible information for your current as well future decision making. Throughout the journey, we will briefly narrate about the best tennis ball machines handpicked by our experts based on a few but exclusively significant technical features so that while purchasing, you can easily compare between all of them.
"Let's Play"!
6 Best Tennis Ball Machine Reviewed!
Spinshop-Player Tennis Ball Machine
1. Spinshot-Player Tennis Ball Machine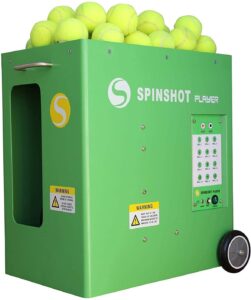 As of now, Spinshot-Player Tennis Ball Machine is one of the most advanced battery operated portable tennis ball machines in the world that can also be controlled using a mobile phone app. That's quite impressive, right! You can customize your drills and program height, direction, spin, and speed for each of 6 sequential shots. 
Technical Details:
Mobile Phone App/Remote Control: Using the mobile phone app, you can ensure optimal usability of the machine and customize several of its pre-programmed drills.
Programmable Drills: 
-20 different angles for the horizontal angle of shots 
-20 different ball speed range from 30 km to 110 km; 01 step is 4kmph
-18 different ball spin rates that include 9 topspin and 9 backspin rates & 1 flat shot
-2 to 10 seconds of ball feed interval
-50 different heights of shots
High Spin Models: This machine is built with high power motors and as a result, the high spin model is much more powerful compared to the normal model especially when the high spin setting is applied.
Speed: With the spinshot player you can practice with a speed of 110kmph. For topspin shots, the speed can be maintained up to 30kmph and as a result simulation of all types of shots can be generated.
Feed Control: You can control the ball feed rate, which varies from 2 seconds to 10 seconds for each shot.
Ball Capacity: At a time the foldable ball hopper can hold over 120 balls, with which you can practice for a prolonged period.
Ball Trajectory/Height Control: With Spinshot-Player you can also control the ball trajectory/height.
Spin Control: To become a better player you need to exactly know how to adjust the spin while making a shot. With Spinshot-Player you can electronically adjust the ball spin at different degrees with top and backspin.
Oscillation Programming: You will be able to set different oscillation parameters with the Spinshot Player and thus customize the court drills. You can pre-set the speed, spin, and shots with various oscillation modes.
Battery Life and Charging: This tennis ball machine has a 12V 12AH rechargeable battery that supports 2-3 hours of uninterrupted play. With the built-in rechargeable battery, you only need to charge it while you relax and prepare for the next segment of the game.
Pros:
Smaller dimensions make it easier to transport from one point to another
Powder-coated metal construction makes it durable as well long-lasting and easy to maneuver
This machine provides maximum 12 programmable drills of 6 shots
Ability to adjust preset programs and program new drills
AC power & standard power system to ensure uninterrupted as well as unlimited play
Mobile phone-based remote control for ball positioning, speed, angle& feed rate of every shot
Cost of Spinshot-Player can be up to 30% cost-effective with a similar type of functionality
Cons:
Ball capacity of the feeder is only 120
Inability to exactly set the speed of the shots
Much expensive than the normal model
Incur extra cost to administer the machine with special phone/watch-remote control
An interval of 8-15 hours to recharge the battery for the next play
2. Spinshot Plus Tennis Ball Machine: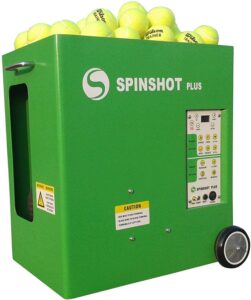 A tennis ball machine shall only be preferred by the players to practice with, if it is loaded with all the necessary features to improve her/his game. Spinshot Plus Tennis Ball Machine such type of a machine that can help you to do so. So why wait any longer, let's find out those unique key features!
Technical Details:
Mobile Phone App/Remote Control: You can remotely control your next oscillation drill by an android phone or smart watch. All you need to do is to press the button and wait for 10 seconds to start your game.
Speed: With multi-functional speed control mechanism the machine is capable to deliver the ball within a speed range of 30-110 kmph and that even with an adjustable top and backspin. If this doesn't improve someone's game standard then what will, right!
Feed Control: Ball feed rate can be controlled from the range of 2 seconds to 10 seconds.
Ball Capacity: The machine comes with a foldable ball hopped that is able to hold over 120 balls at a time.
Ball Trajectory/Height Control: Ball trajectory is electronically controlled and you can fine-tune it from 0 to 50 degrees. This will help you to play different shots at different angles.
Spin Control: You can electronically adjust both the back and topspin with angles that vary from zero to nine degrees. This varying range of spin gives the flexibility to design twenty different types of shots.
Oscillation Programming: You can program your own customized drills with a random two-line horizontal and vertical oscillation. From the front panel, you can use H1-H2 to program the vertical oscillation and W1-W2 to program the 2-line horizontal oscillation. You can program each factor like spin, speed for different oscillation modes. You can design different sets of shots that will give you a practical experience of the game.
The five different oscillation modes are:
Random horizontal oscillation (balls shoot to random horizontal locations)
2-line horizontal oscillation (balls shoot to two preset horizontal locations)
Vertical oscillation (balls shoot at two different preset heights)
Random horizontal and vertical oscillation (balls shoot different horizontal & vertical heights)
2-line horizontal and vertical oscillation (balls shoot to two preset horizontal locations in two different heights)
Battery Life and Charging: With 12V batteries, it takes 8-15 hours to be fully charged. The battery has overcharge protection. After getting fully charged, the battery can support 2-3 hours of play. Moreover, for a prolonged period of play, you can add multiple batteries. It comes with a battery charger as well, which is compatible with the batteries. The smart design of the power cage and technique to remove the battery cover makes it pretty simple to install the battery or upgrade the machine to AC supply.
Lightweight & Portability: With towing wheels, square-shaped and extended hopper you can easily transfer and put all your tennis equipment on it. With a folded ball hopper, the machine dimension becomes somewhat 18"x12"x20" and you can easily store it in your car's trunk. The body of the machine is made of metal which makes it durable for a longer time. The AC and battery model weigh respectively 19 kg and 21 kg.
You can also check my article best tennis overgrip for sweaty hands here.
Pros:
Machine with multi-functional speed control, oscillation & spin
Advantage of using multiple batteries to ensure longer practice session
Incorporation of AC power module ensures continuous and unlimited play
Use of free phone remote app or watch remote to control the machine and its function
Stable WIFI connection
Machine with flexible power options
Powder-coated metal construction makes it durable
User-friendly dimension & easy to transport
Up to 30% of savings with similar functionality
Cons:
Short practice hour compared to other available machines
Need longer period (8-15 hours) to be fully charged
Ball capacity: only 120
No programmed drills
No programming features
3. Spinshot Pro Tennis Ball Machine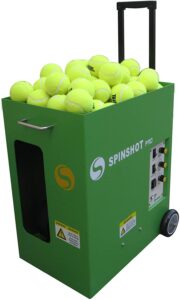 Spinshot Pro is another tennis ball machine incorporated with multiple functions like varied ball speed, feed rate, height/trajectory, oscillation, topspin, backspin etc. All you need to do is to adjust the controls available on the user-friendly control panel to satisfy your training needs. But if you are looking for a machine to assist you to improve your game by replicating various ball return scenarios then this is one of the best choices already available around.
Technical Details:
Remote Controller: The Spinshot Pro comes with a 2-button remote controller. One of those buttons regulates the oscillation mode on and off and the other one controls the ball feed.
Speed: This machine is capable of producing a varying speed that ranges from 30 kmph to 110 kmph. The ball speed can be adjusted with topspin to mimic all types of shots and your play style. This type of speed variation with random oscillation and topspin can ensure a definite skill-based improvement in your game.
Feed Control: With this machine, you can control the feed rate that ranges from 02 to 10 seconds. With regular practice, you can lower the feed rate and adjust to a more aggressive playstyle.
Ball Capacity: Like other Spinshot tennis ball machines, this Pro with its foldable ball hopper can hold 120 balls at a time.
Ball Trajectory/Height Control: This machine has a very user-friendly control panel on the side. Due to the control panel, you can electronically adjust the height.
Spin Control: This machine offers a varied range of spins. You can electronically control the ball spin in 06 (six) different levels based on different degrees of back and topspin.
Oscillation Programming: The random oscillation mode can deliver balls across the court; can create a match like situation that will allow you to concentrate on your footwork, fitness, and practice shots.
Battery Life and Charging: The battery takes 8-12 hours to become fully charged. Once charged the machine's battery can give you support for 2-3 hours of play. The battery will not be available with the standard machine, so you will need to purchase it separately.
Lightweight &Portability: It weighs 18 kg for the AC & 21 kg for the battery model. The aluminum frame body makes it lightweight as well as durable at the same time. Towing wheels and retractable handle will help you to put all your tennis equipment on the machine and tow them anywhere within the court.
Price: Considering all the features, this machine offers savings of up to 30% with similar functionality.
Pros:
This is a lightweight tennis ball machine
Easy to transport throughout the court
Has a strong built & durable for a long time
Has an impressive ball firing speed
The variable feed rate to practice with
Affordable pricing with some distinct features
Opportunity to play spin balls on 12 different levels
Two-button remote control
Cons:
Relatively less backup time after the battery charged
Needs extended period to charge/recharge the battery
Limited variation with respect to the oscillation
Hopper contains less number of balls
Speed control and feed interval set up in steps, not in exact numbers
No programming features
No preprogrammed drills available
4.Wilson Portable Tennis Ball Machine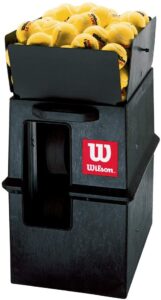 Wilson is considered to be one of the world's most well-known as well as longest-serving tennis brands. Wilson's portable tennis ball machine is one of the most lightweight, compact, user-friendly machines available on the market. It provides some quality features at an affordable price. Let's find out about those features!
Technical Details:
Speed: Speed is adjustable in between the range of 10 mph to 75 mph. This means players belong to each & every level (beginners, intermediary and professional) will have a suitable speed to practice with.
Spin Control: With this machine, you can adjust the spin in different degrees. You can play flat shots or varying degrees of top and backspin.
Feed Control: The feed rate in this machine is adjustable from 1.5 to 10 seconds for delivery. You can adjust the parameters by moving a knob in 10 different steps.
Ball Capacity: The feeder can contain 110 balls at a single time which is a bit less than other available machines.
Ball Trajectory/Height Control: Ball elevation can be controlled electronically with just a button of the control panel. Elevation varies from ground-stroke to lob or 15-45 degrees which helps you to play different type of shots, inclusive of the overheads.
Oscillation Programming: The built-in oscillator delivers the ball either in a fixed position or randomly across the court. The optional 2-line oscillator model will deliver the balls to 2 different positions within the court and let you play ample of forehand & backhand shots.
Warranty: This machine is supported by a three-year warranty covering both parts and labor.
Lightweight & Portability: This is a light machine with a compact shape (22"L x 14"W x 20"H) and weighs only 17 kg/ 38 lbs. (including battery). The built-in towing wheels and handle make it suitable enough to move across the court.
Battery Life and Charging: With every charge, the built-in battery provides up to 04 hours of practice time. It takes 18 hours to recharge and has overcharging protection. Including a fast charger with some additional cost you can reduce the charging time up to 6 hours.
Remote Controller: You can purchase a two-button wireless remote control to start and stop ball deliveries as well the random oscillation anywhere across the court.
Pros:
The recharger comes with overcharging protection
Fast charger reduces the charging time
Lightweight: only 38 lbs.
Has a standard charger
Comes with an electrical elevation
Ensure extended hour practice time
Parts & labor warranty for three years
Cons:
2-line oscillator incurs extra cost
Longer time needed for a full charge
Remote controller incurs additional cost
No programing drills
Inclusion of two-line oscillation feature incurs additional cost
External battery pack, replacement batteries, external AC power supply incur an additional cost
5. Match Mate Rookie by Match Mate Tennis Ball Machine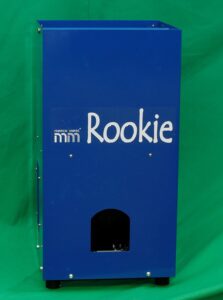 Like its name, the Match Mate Rookie is the perfect tennis ball machine designed to gratify the needs of children and/or beginners. The most lightweight machine weighing only 22 lbs. is easily transportable in different planes. Availability of internal battery can ensure extended hour practice sessions. High grade internal and external aluminum shell makes it durable.
Technical Details:
Speed: This machine is capable to shoot balls within a speed range from 10 mph/16 kmph to 27 mph/42 kmph with heavy topspin.
Spin Control: One of the important as well challenging features of this machine is it can generate heavy topspin at speed of 27 mph.
Feed Control: This machine provides a 10-second ball feed delay at the beginning so no shot gets wasted.
Ball Capacity: At a time the ball hopper can hold 70 tennis balls to play with.
Ball Trajectory/Height Control: This machine offers a triple threat elevation.
Oscillation Programming: Since this machine is designed for beginners, so no oscillation is installed. While practicing with this machine you don't need to run from one side to another.
Warranty: 01 year warranty for parts and labor and 06 months warranty for the battery is available with this machine.
Lightweight & Portability: Aluminum outer shell and urethane pitching wheels made it suitable to use for several years. The machine weighs only 22 lbs./9.9 kg and easily transportable anywhere around the court.
Battery Life and Charging: With the rechargeable battery you can uninterruptedly play for 5-7 hours. The smart charger that comes with the machine prevents the internal battery from getting overcharged.
Remote Controller: No remote control is available with the machine.
Pros:
The high-grade aluminum outer and inner shell
Easy transportable anywhere around the court
User-friendly control panel
Lightest ball machine available on the market
Mild speed range, suitable for beginners/children
Long-lasting internal battery
Smart charger ensures no overcharging
Safe for small children and/or beginners
Cons:
Not for intermediate or advanced players
No remote control
No oscillation or advanced features
No programmable drills
Hopper can hold only 70 balls at a time
Ball feed rate does not vary within a range
Generates less speed than other machines
6. Spinshot Lite Tennis Training Machine Basic Model (Best Model for Junior Player)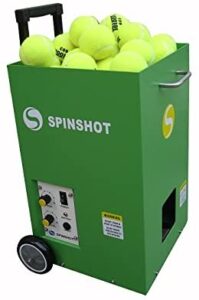 Spinshot Lite is basically designed with the objective of improving the game of junior and intermediate level players. Several features/functions like speed control, ball feed rate allow slight variations in straight line deliveries. Along with being one of the lightest machines available on the market, this one has a powerful and long-lasting battery that can run until the player is ready to quit. With multiple functions, this machine surely can do a lot for the development of a beginner or intermediate level player.
Technical Details:
Speed: This machine can deliver balls within a speed range of 10 kmph/ 6 mph to 60 kmph/ 37 mph with topspin.
Spin Control: Machine can shoot balls with topspin.
Feed Control: The feed rate for each ball of the machine can be adjusted from 2 seconds to 10 seconds.
Ball Capacity: Hopper can hold 40 to 50 balls that will take 2-6 minutes' (based on feed rate) practice in a single sequence.
Ball Trajectory/Height Control: The machine is devoid of electronic elevation.
Oscillation Programming: This machine has no programmable drills or oscillation. You can only practice with repetitive shots placed in the same direction.
Warranty: No mention of warranty either for parts and/or labor.
Lightweight & Portability: With dimensions like L-25 cm; H-40 cm; W-25 cm you can easily place this machine inside your vehicle. Towing wheels and the retractable handle makes it easier to move. For AC and battery model the machine weighs respectively 9 kg/20 lbs. and 10 kg/22 lbs.
Battery Life and Charging: One of the most significant features of this machine is it can run up to 7 hours without any interruption once the battery is fully charged. It takes 8-12 hours to recharge the battery. The machine comes with a battery charger that is compatible with 12V-7AH batteries.
Remote Controller: No remote control available with this machine or possibility to connect with a smartphone.
You can also check our best tennis strings review here.
Pros:
Very lightweight and easily transportable
Can save up to 45% to achieve similar functionality
Robust powder-coated metal construction makes it durable
Can incorporate AC power module for uninterrupted play
Easy to store into the trunk of the vehicle
User friendly & easy to operate
Exceedingly long-lasting battery life
Ability to play repetitive shots
Suitable for beginners and/or intermediate players
Cons:
No programmable drills
Feeder holds only 40-50 balls
Limited ball delivery adjustment
No remote control possibility
No oscillation mode
No electronic control of ball elevation
No exact numbers to adjust speed control and feed rate
Buyer's Guide: How to Choose a Tennis Ball Machine
When there are so many options to choose from we often get confused and sometimes end up selecting the wrong option. The buyer's guide can narrow down your options and can assist you to the reasoning before buying a tennis ball machine. Whether it is the first time you are looking for a tennis ball machine or you already have one but intend to replace it with another, you need to have a crystal clear idea about the features you are looking for. Now the specific features you prefer are related to your skill level and specific skill sets, game areas you want to improve. Modern-day tennis ball machines include a number of technology-dependent advanced level features to make your practice session much more interesting. But remember, the inclusion of any of these features shall incur a simultaneous increase in your machine's price.
In this guide, we will share information regarding basic terminologies, features of the tennis ball machines. Before exploring that part, there are a few points you need to carefully consider which eventually shall help to determine the features you really want to be embedded in your machine.
What is Your Skill Level?
So now you know that there are a number of tennis ball machines available. But are all of them going to help you the same to improve your game? The answer is 'No'. The perfect tennis ball machine basically depends on your skill level. Your skill level basically denotes your needs of improvement and course to reach the next level.
To get the best out of a tennis ball machine, you have to pick the one that suits all your needs. Being a beginner, purchasing a professional-grade machine with a number of advanced level features may turn out to be a less profitable investment. A professional-level machine offers complex features like customize drills, 2-line delivery, horizontal and vertical oscillation with high-speed deliveries. A beginner may still get benefitted from such a machine but it would seem like solving a complex math problem without adhering to the basics first. So if you are a beginner, you need a machine that satisfies your need of playing numerous shots with less speed and variation. Moreover, these beginner-level machines are quite affordable since they lack a number of advanced level features.
Intermediate and advanced level players aim for significant improvement in a number of specific game skills like technique, strategy. To ensure such improvement they need a device that can offer high-end features like different oscillations, quick deliveries embroiled with spin, faster feed rate. Machines designed for intermediate and advanced level players come with several perplexing functions like preprogrammed drills, which even are customizable. With this option of customization, you can outline your own drills to work on your weakness and ensure regular improvement.
Advanced Tennis Players
With respect to the specific needs of advanced level players, the tennis ball machines come with different complex functions like customizable drills. With this function, the machine can deliver various shots with a different pace, oscillation, spin. Though these machines seem a bit expensive but they pay in full when you get to practice regularly and improve your skills by addressing your weakness.
Intermediate Level Players
Intermediate-level players keep looking for a scope of continuous improvement and upgrade their game skills to the next level. They can do the same with the help of a machine embedded with advanced-level features. Although in the beginning, they may not need to use all the features but a few. However, as much they push to cross the boundary quickly they get used to the complex and customized tennis drills.
Beginners
For beginners, a tennis ball machine with the basic features can serve the purpose. Technically all they need is to develop a strong base of skills. They can improve their groundstrokes by hitting as many as possible forehands and backhands from the baseline. A machine with a spacious hopper, quick feed rate, moderate speed, no or less spin can do just as good as a beginner needs.
How often will you use the machine?
Before purchasing a tennis ball machine you have to set a complete plan of action. Considering this plan you need to set a target. The frequency of using a ball machine and the length of each practice session are the defining criteria of an effective plan. Once you are quite serious about following the plan, you are ready to purchase a ball machine. Although a tennis ball machine is expensive but it can become a sound investment only if you use it properly and in a regular manner. A tennis ball machine is considered to be the best available instrument to improve your game skill even if you don't have a partner to practice with. However, if you are not enough serious about practicing with a tennis ball machine then the second-best option to spend your money would be the private lessons from your local tennis club.
What is your budget?
As you already know there are a number of tennis ball machines available in the market and a number of them are expensive. The price of the machine varies with the inclusion of a number of advanced level features. So, if you are serious about tennis and practicing with a tennis ball machine then our suggestion is first you fix the specific set of features you would like to have into your machine. This would help you to narrow your array of search. Also, you can have a ballpark figure. Now accommodate your budget and go shopping!
Features of Tennis Ball Machines
You might be wondering, what are the key features you should be looking for while purchasing a tennis ball machine, right? Don't you worry my friend, the solution to your queries are briefly explained below. Just take a look, go to the market and purchase the machine that suits you the most.
Tennis Ball Capacity
The overall number of balls a hopper can accommodate at one time is the ball capacity. Comparably ball capacity is somewhat considered to be a less significant feature except for frequent refilling and practice break. So, if you want a lesser number of breaks during a session then go for the machine that can hold a maximum number of balls. Most of the industry-standard portable tennis ball machines are capable to hold around 100-120 balls at once. Machines that can carry more than 300 balls at once are considered to be a professional machine.
Feed Rate
The time interval between consecutive shots is the feed rate of a machine. For most of the machines, the feed rate is adjustable between 2-10 seconds. Feed rate is an important feature of a machine since this will help you to improve your game. For beginners, an interval of 10 seconds ensures a great deal of time who still have to learn how to play the shots, to move with the ball, foot movement, and others. An Interval of 2 seconds can help the advanced level players to react much quicker with their shot. With this feed rate, you can play maximum shots within the shortest period of time.
Oscillation
The oscillation of a tennis ball machine generally refers to the phenomenon of shooting the balls in both directions with different elevations. This feature helps a player to play shots like forehand, backhand, high lobs, overheads, and low volleys by simulating real-time play. With respect to different categories of machines this oscillation can be random or programmable. Tennis ball machines with horizontal, vertical, random oscillation and even 2-line delivery are supposed to improve your game with specific improvements like positioning, footwork, shot playing, stamina, ball movement etc. However, the availability of different oscillation modes mostly depends on the price of the machines.
Horizontal Oscillation: Tennis ball machine with horizontal oscillation will only feed balls to both sides of the court. Among those machines, some shall only deliver the ball in one direction only and more advanced machines can shoot the ball in both directions which can improve both your forehand and backhand shots.
 Vertical Oscillation: Machines with vertical oscillation shall deliver the balls with different elevations. This feature can help you to improve your game by practicing the high lobs, overheads and low volleys on a regular basis. With the variation in price, this feature can be controlled manually or electronically.
Random Oscillation: A number of high budget ball machines also offer random horizontal and vertical oscillation. Machines with features like random oscillation can shoot balls not only in different directions but also with variations of height and angle. Practicing with varied vertical oscillations shall help you to move back and forth. With this, you can decorate yourself with diversified shots. Some of the machines not only randomize ball direction and elevation but also the feed rate, speed and spin. With this much variation in shooting you can have the match like the experience of playing against a real-life opponent.
2-line Ball Delivery: For advanced level players, some of the machines come with a feature named 2-line ball delivery. With wide, medium and narrow width settings these machines can shoot 2 balls at the same time. Added with varied oscillation this unique feature can make your training session really challenging and distinctly effective.
Spin
Refers to the spin on the ball! One of the toughest shots to return in a tennis match is the one with spin. The only way you can become a master of facing topspin and backspin is by practicing such shots again and again. Most of the tennis ball machines come with the basic ball spin settings. You can also adjust the extent up to which the ball shall spin. This level of spin adjustment varies from one machine to another. Now you decide which machine shall be well suited to satisfy your need.
Speed
Indicates the travel speed of the ball or how quickly it will reach you after leaving the machine! For example, if you are standing at a distance of 24 m from your machine and the ball speed is fixed at 90 mph then after shooting, the ball shall reach you approximately within 0.6 seconds. Ball speed is a commonly available feature in every tennis ball machine. Considering players' standards the speed range and speed adjustment level varies from one machine to another. Machines designed for beginners can offer a speed range of 10-35 mph (approx.) whereas a few others can generate speed up to 90 mph. To simulate game-like situations players prefer machines with a wide range of speed variation.
Custom Drills
Many of the high-end tennis ball machines that offer custom tennis drills are pre-programmed by the manufacturer. These pre-set drills consist of a number of shot sequences. Each of those shots fired with different parameters. Some of the machines will allow you to design your own customized drill by adjusting various settings. These types of customized drills can help you to improve those of your skills you specifically aim for. The custom drill is a feature that is much more helpful for intermediate and professional level players since it allows them to improve their specific skills, reflexes and hand-eye coordination better. However, most of the beginner-level machines devoid any such feature of custom drills.
Remote Control
A good number of modern-day tennis ball machines have various types of settings. A combination of these settings can help improve your specific set of skills. While practicing, the tennis ball machine always stays on the opposite of the court. Running back and forth for changing each different setting can make your session a bit tiresome. There are a number of ball machine brands that come with a remote control facility. Some of the remote control facilities will only help you to turn the machine on and off while others can make changes in different settings like feed rate, horizontal oscillation, elevation, ball speed, spin, and others. You can also operate a few of the high-end machines using mobile phone apps only.
Size & Weight
The size and weight of a tennis ball machine is more an issue of convenience rather than significance. You need a tennis ball machine that is neither too heavy nor too lightweight. If it is too heavy you will face trouble moving it over the rough pitch, again if it is too light then the machine may not last long or sustain adverse weather. The ideal tennis ball machine is the one that can be comfortably placed inside your car, easily portable on any plane and made of solid metal.
Power Supply
Rather than a feature, a power supply is considered to be a machine's mechanical specification. However, this specification needs careful consideration since there are multiple ways to power a machine.
Previous models of tennis ball machines needed direct power from an AC outlet. This type of power supply can ensure unlimited court time but with less or no portability. Thus this type of machine becomes useful only to the locations that offer AC power.
On the other hand, the modern-day tennis ball machines are mostly battery-operated. Battery life solely depends on its capacity and the number of features being used. As many features are being used that quickly the battery will lose its charge. Most of the modern-day machines can ensure an uninterrupted but exceptionally effective session of 2 hours to the very least. There are also some tennis ball machines that run on hybrid power modules. This type of machine draws power from both the AC socket and the battery. This can be a great help for localities suffer from frequent power failures.
Portability:
The tennis ball machine is the type of partner that stays with you during each of your training sessions and you need to carry it everywhere. This machine comes with a large rechargeable battery and some other mechanical parts which make it heavy. This means you need a machine that has built-in adequate-sized wheels and well designed solid metal handle to make sure you can easily move it on any uneven ground.
Durability:
You need a tennis ball machine that can endure the pressure of your practice, bad weather, rough pitch and others. Since no tennis ball machine is waterproof, so there is a possibility that the machine itself, its control system and/or other parts may show mechanical glitches due to exposure to heavy wind, rain, dust, fog etc. To avoid such difficulty you need a machine that is made of solid materials like metal or heavy-duty plastic. This will make sure your machine stays up and running for a long time.
Height Variation
The height of shots is another important part of your training. Considering the height of your opponent the shots you play may vary widely. Some players will challenge you with lob shots while others will keep it low and hit it hard. To improve your game you need a tennis ball machine that can replicate a similar scenario and shoot balls with varying heights.
Warranty
As you already may know that a tennis ball machine is an expensive piece of equipment that you would like to remain operational for a longer period of time. So what do you think is the best way to ensure this to happen? Yes, it is the warranty period! Before purchasing a machine you have to make sure that the machine has a better warranty period. Otherwise, there is the slightest possibility that you have just wasted your hard-earned money. Since this is electronic equipment, so there is a possibility that even the machine of a well-known brand has a mechanical defect. In that case, your warranty would be the last resort to overcome such trouble. The best option to avoid such a possible challenge is to purchase your machine directly from the manufacturer or a licensed retailer since they offer the best price and warranty. While the warranty for the machine may cover a time period of 2 years but for battery, it is 6 months only.
Battery Life
Usually, tennis ball machines run on a rechargeable battery. You need to make sure that the battery can serve your purpose of uninterrupted training sessions. Before purchasing a machine you should pay attention to the recharging time and whether it has overcharging protection or not, whether the basic chargers can be replaced by much better units or not. Moreover, how long it will provide service, once the battery is fully charged. Usually, good battery life is considered to be 4-8 hours that can provide uninterrupted service for a couple of days.
Concluding Remarks
The tennis ball machine is an expensive piece of device that can come in handy to improve your game skills. All you have to do is to rely on the instrument and practice on a regular basis. Machines of different brands come with a different set of features with varying degrees of services. A most significant issue to consider before selecting and purchasing a tennis ball machine is whether the device can adequately address all your improvement needs or not. Not necessarily machines with several advanced features will always be the best choice for you and the best partner to practice with. You have to evaluate yourself first and then decide which device can serve your purpose in the finest possible way. Once you are confident about that answer you can go for any machine with such distinct specifications. After all who can be a better judge of your game skills than your own self, right?
Frequently Asked Questions: 
Q: WHY DO I NEED A TENNIS BALL MACHINE?
Ans: The tennis ball machine is a great hitting partner to practice with. It will be available for 24/7, so whenever there's no one around you can still have your practice with this machine. It can help you to simulate real-life game-like situations thus improving your performance. A number of professionals are also known to practice with tennis ball machines.
Q: IS A TENNIS BALL MACHINE USEFUL?
Ans: Yes it is very useful considering you can have a practice anywhere at any time. You can carry it to distant places, place it inside your car and it takes less space while placed inside your house. Most importantly, you can become a better player by improving your skills and cut down your deficiencies by playing the shots repeatedly.
Q: IS A TENNIS BALL MACHINE GOING TO IMPROVE MY PERFORMANCE?
Ans: You can bet it is! Other than a real-life partner to practice with a tennis ball machine is the best available partner to improve your performance. These machines are specially designed to improve a player's performance in different aspects like playing a shot, movement on the court, maintaining position, and others. So practice with your machine on a regular basis and in the right way. The safe bet is you will find a significant improvement in your performance.
Q: WHAT IS THE BEST BALL FOR A TENNIS BALL MACHINE?
Ans: It might be surprising to know that selection of the right type of tennis ball for the machine is as important as choosing the right tennis ball machine itself. Most of the tennis balls look similar although they carry a very subtle but significant variety. Low-quality tennis balls sometimes jam the machine thus causing serious damage. Though the professional and championship level games are played with balls filled with pressurized gas for a practice session with a tennis ball machine pressure-less tennis balls are considered to be the best-fitted option. Over time the rubber shell softens and pressureless balls to generate more bounce. They even last longer than the pressurized balls.
Q: WHO INVENTED TENNIS THE BALL MACHINE?
Ans: Jean René Lacoste, a French tennis player and businessman first invented the tennis ball machine.
Q: WHY SPEED/SPEED VARIATION IS IMPORTANT?
Ans: Variation of speed in a tennis ball machine is one of the most significant features. To improve his/her game over time the player needs to play speedy deliveries and what could a better solution than a machine with a controller that can generate speed to an extensive level.
Q: IS APP SUPPORT WORTH IT?
Ans: Yes, it is! Although the overall experience of using the app depends on the app developers. Whenever you are practicing alone, the app can always make it easy for you. Otherwise every time the hopper is empty you have to go around and adjust all the features once again.