As an Amazon Associate I earn from qualifying purchases.
In the world of sport like tennis, the only weapon that either wins or fails you is the racquet and that's why our  Wilson Hyper Hammer 5.3 review. The attributes of this weapon plays a great role in owning the match. And if you are a beginner, then you will particularly need nothing but a guidance to get the best.
Well, you will get a lot of great options, but we would like to highlight this best of the best by Wilson.
The brand has installed all the good sides into the Hyper Hammer 5.3 to make it a great one. And that's the reason why you are reading this Wilson Hyper Hammer 5.3 review.
We have included all the factors, be it positive or negative to highlight this great racquet. So let's start with all the features.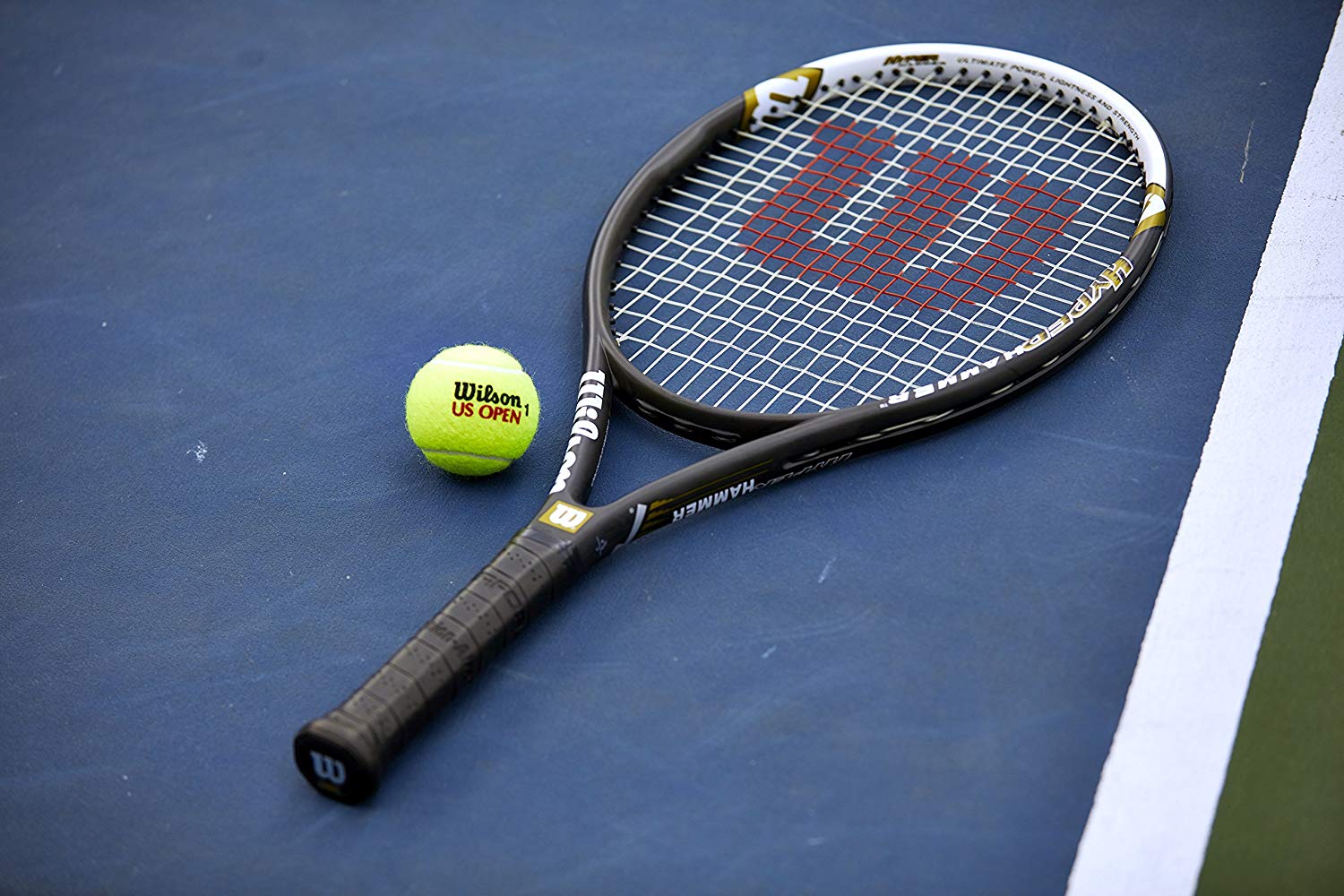 Features of Wilson Hyper Hammer 5.3
This is one of the best tennis rackets for beginners as well as the best tennis rackets for women.
Materials
One of the reasons to have a Wilson Hyper Hammer 5.3 review is its material. The brand has chosen the best one for its frame that is with Carbon fiber. This material comprises of carbon threads braided to form a kind of mat shaped into mold using head and pressure. It's a polymer-based material that combines several yarns of carbon to offer resistant quality.
Carbon fiber is such a material that offers an amazing strength to weight ratio. Not only that, it also belongs to the stiffer material and can provide you with wonderful kinetic energy transfer. To add more, this material is also stated to be lightweight as well as durable.
While the material of the frame leaves you stunned, the string material makes you feel completely opposite. The strings are made of polyester and has been stated to be very low of quality as per the users.
Not only the users faced trouble with ripping apart of the strings, but also with their inappropriate tension. As a result, you may not feel comfortable with the strings used in the racquet.
Moreover, it has also been stated to vibrate a lot, and the reason is again the strings.
That said, the racquet features open string pattern. And that will provide you with spin and power which is a big plus.
Weight
Hyper Hammer 5.3 comes pre-strung and weighs around 254 gram. Even with the strings on, you will find the racquet to be lighter than many of the rivals.
Since, it's a lighter racquet, it is stated to be great for adult players who are new to the tennis sport. Coming in such weight would mean, coming with ease of maneuverability.
Plus, you will also be able to play with it for a longer period as it will not cause any fatigue and pain in your wrists and forearms.
The big plus is that, it also will give you comfort that has delighted many players.
Size and Length
Wilson Hyper Hammer 5.3 has been designed with an oversized head. It features an 110 square inches sized head meaning the sweet spot will be larger and you will have lesser chance to mishit the ball.
Oversized head has a lot of perks. It can let you strike the ball effectively by producing a greater power and forgiveness with its bigger sweet spot.
Albeit, you may find it hard to control the head with ease, but that should not be an issue. It's because, the more you will get the play with it, the more control you can enjoy.
Moreover, the racquet has a length of 27.5 inches. As it is more of a longer sized racquet, you can enjoy more power and reach.
Head Balance
The brand has designed the Hyper Hammer with head heavy balance. If you love to play rigorous game, then head heavy racquet will be great for you.
Head heavy means, the weight is given more to the head than the shaft. So, it will help amplify power of your smashes and you can enjoy the game evidently. Not only that, such feature can also provide you with consistent clears.
Plus, it also helps increase momentum and stability in its lightweight frame.
That is one of the reasons why we loved the racquet so much and thought to cover Wilson Hyper Hammer 5.3 review.
Grip and Its Size
As for the grip of the racquet, it definitely feels great. You can hold the shaft firmly and your sweaty hands will not cause slippage.
You will find about 4 options for the grip size. Out of the 4, this one comes in 4.5 inches which is the US size.
The grip size is a very technical feature and the size of your hand plays a big role. If you have mid-sized hands, then it will be a perfect pick.
However, it does not mean that players with small and big sized hands won't be able to play with it. You can modify the size by adding or removing grip tape layer. So, this is not really a big on we would say.
The only thing you need to keep in mind is to try it out before making a purchase. Do check if it delivers full range of motion in your wrists and forearms.
About Wilson
The Wilson Sporting Goods Company (WSGC) had been founded by Thomas E Wilson in 1913 which is about 106 years back. It was initiated as Ashland Manufacturing Company that later changed to WSGC. Since 1989, the company is stated to merge with Bogey Acquisitions Company while becoming a subsidiary of the Finnish group Amer Sports.
It is an American-based company located in Chicago, Illinois and manufactures sports equipment especially sports such as tennis, squash, soccer, racquetball, golf, fastpitch softball, basketball, baseball, badminton, football and volleyball.

Advantages:
Frame material offers resistant quality.
Comes with great strength to weight ratio.
Offers great kinetic energy transfer.
Weighs very light to hold.
Solid and well built.
Easy to swing through the air.
Open string pattern offers spin and power.
Easy to maneuver and control.
Great for beginners and intermediates.
Does not cause fatigue and pain even after long-term play.
Oversized head offers bigger sweet-spot to strike the ball effectively.
Head heavy balance offers power generation for clears and smashes.
You will be provided with added momentum and stability.
The grip feels great to hold.
Disadvantages:
String material is of low quality and can rip apart quick.
The tension of the string may set inappropriately.
Oversized head may not be easy for very newbies to control.
Grip size may not suit may players with different sized hands.
It does not come with a cover.
Frequently Asked Questions:
Q: What is an Open string pattern?
A: An open string pattern is designed with fewer strings. So there will be more gaps between them. Such pattern helps in putting a spin on the ball. It's because dense strings are more likely to bite into the ball easily. However, spin generation yet counts more on your technique, so if you do not use a top-spin form, it can be a moot point. Moreover, since the strings will be fewer in number to absorb the ball impact, hard hitters may face the strings ripping apart pretty quicker.
Q: Does the racquet have vibration dampening technology?
A: No, the racquet does not particularly have vibration dampening technology. So, it is likely to vibrate while you strike the ball. However, the racquet comes with a piece of rubber placed in between 2 middle vertical strings below the horizontal ones. If you don't want it to vibrate, you can add a vibration dampener to the racquet separately.
Q: Does the racquet come strung and will you get a cover with it?
A: Yes, the Wilson Hyper Hammer 5.3 racquet comes pre-strung and no, it does not come with a cover.
Q: Is it a male or female racquet? Can intermediate players use it?
A:  The Wilson Hyper Hammer 5.3 is a unisex racquet. It has been designed for both male and female players. Not only that, it is also stated to be great for both beginners and intermediate players as well. So yes the latter can use it with ease. The racquet is very light, forgiving and responsive, so you will love to practice the game for longer-term with effective shots.
Q: What is the string tension and what string should you use for the racquet?
A: The racquet comes pre-strung at about 60 pounds tension. The sticker on the body recommends to use Wilson NXT String.
Wrap up
If you look at the positive sides and ignore the fewer drawbacks, you will find the racquet an ideal pick. It is easy to control, light to hold, it has power to strike the ball effectively with bigger sweet spot and everything that you want in a racquet. Not only that, but you will also find it solid like a hammer, so it is meant to stay longer in your practice match.
So, if you are a newbie or an intermediate player looking for a great racquet to own the match, then we would say this one is for you.