As an Amazon Associate I earn from qualifying purchases.
In the article on how to hold a tennis racket, we discussed the most important thing to become a great tennis player.
Just about in any sport whether you are a serious athlete or just do it leisurely you're going to have to put in the work to continuously improve your game.
Have you noticed how a professional golfer stands in front of the ball while trying to get the perfect stance and the right grip on his club?  Or how a baseball player holds the bat before he swings it toward the ball?
In tennis, how you hold the racket is the first and most important thing. You need to learn it if you want to become a good player.
We are going to discuss the different ways to hold a tennis racket and why it's important to know every one of them.  Yes, you got that right, there is no single way to hold a tennis racket, and we will explain each one as clear as possible.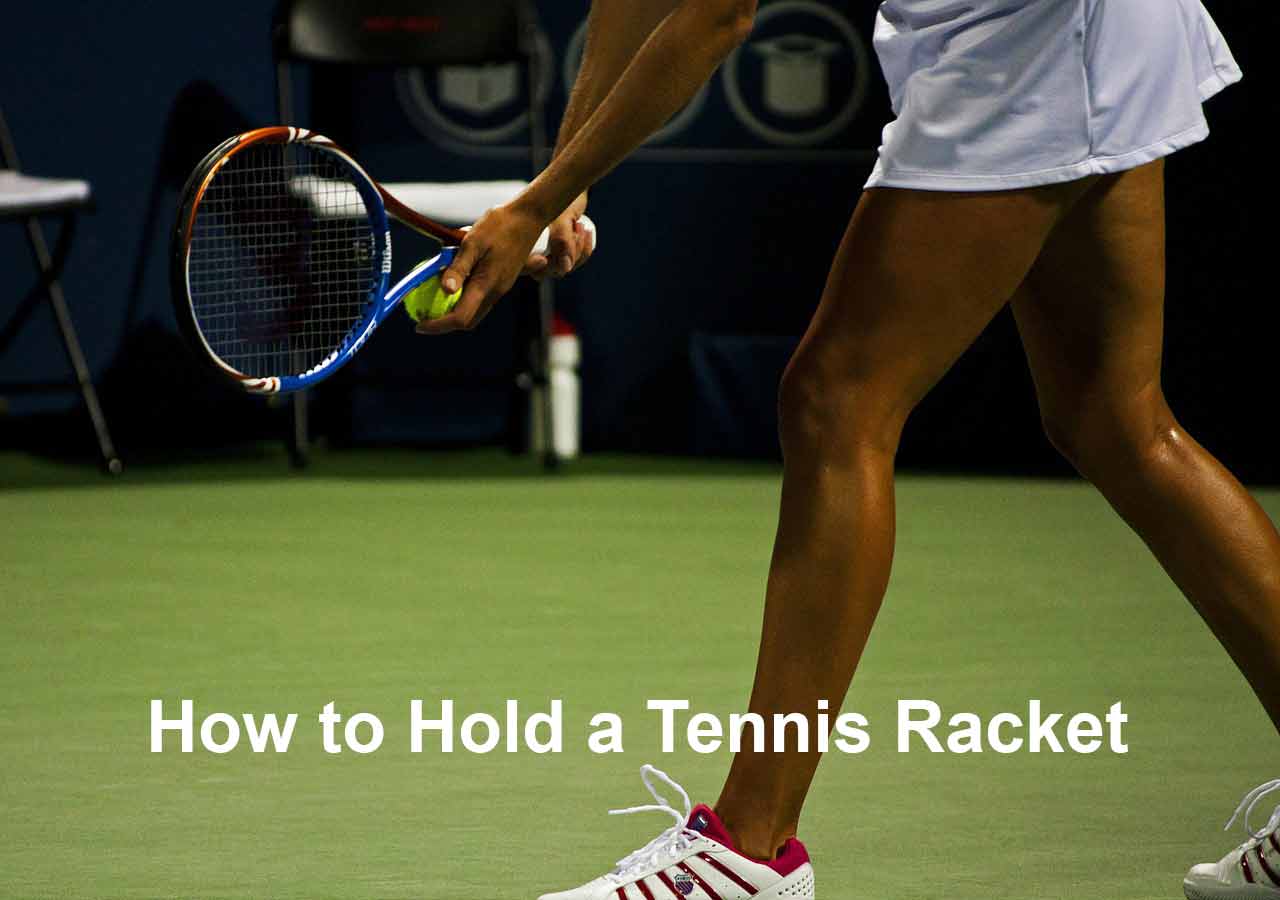 Continental Grip
This is the one grip that you will use for the most amounts of shots anywhere from the slice, volleys, overheads, and serves.  This is the grip that you should become very comfortable with.  The Continental is a very neutral grip.  When you open your hand up from the grip, your palm is very much in line with the racket's face.
To give you a better idea of where your hand should be positioned on the racket for all types of grip, you need to know about the bevel of the racket.
Bevel
If you look at the bottom of your racket, you will notice that it has an octagon shape. Since the grip of the racket has eight sides.  Each side is called a bevel.  The bevel is our reference point so we need to assign a number on each bevel to get a precise reference to where our grip should be.
If you hold the racket on its side, the top bevel is bevel number 1.  But what about if you are a right-handed person? No worries, you just need to count the succeeding bevels from numbers 2 to 8 clockwise. Lefty? It's the opposite side or counter-clockwise from bevel number 1.
To do the continental grip on your racket, what you should do is place your index finger's palm-knuckle and the heel pad of your right hand along with bevel number two.  If you're left-handed, your index finger's knuckle and heel pad will be on bevel number 8, or the exact opposite side.
You will know you have the right grip when your thumb and index finger form a "V" shape on the top of the handle.
The Continental grip is usually described as a "hammer grip" because of the position of the hand.  You're going to use this grip for serves, volleys, overheads, and slices.  Now you should remember that in tennis, one of the most important strokes is the service and you cannot execute it effectively without applying the continental grip.
Pros
The most flexible grip of all as it's used for serves, volleys, and overheads
Can be used for defensive shots
Cons
The angle of the racket's face makes it hard to hit the ball for a topspin using this grip
Eastern Grip
The Eastern grip is what you are going to use for both forehand and backhand strokes.  A lot of professional tournament tennis players prefer this when doing forehand shots.
Eastern Forehand Grip
In tennis, the forehand is a type of shot you do in the same way as in most racket sports such as badminton, or table tennis.  You execute it by swinging the racket across one's body with the palm of the hand towards the ball.
From the Continental grip position wherein the knuckle of the index finger is at bevel number 2, you just move it to bevel number 3 and you're already in an Eastern Forehand grip.  This grip is what Roger Federer uses to execute his forehand groundstrokes.  And even Pete Sampras, another all-time tennis great favored this particular grip.
Shots using this grip ideally are made at waist level where power is generated from the hips.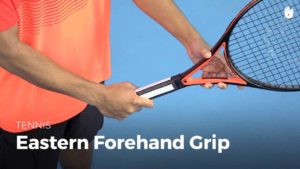 Pros
Suitable for players who love attacking the net
Easy to transition from this grip to a Continental grip
Creates powerful topspin
Cons
Lack of control with high balls
Eastern Backhand Grip
While you need to make slight variations on the exact position of the hand for the Eastern backhand grip, the index finger knuckle on bevel number 1 is the recognized position.  Your knuckles should line up in a straight position on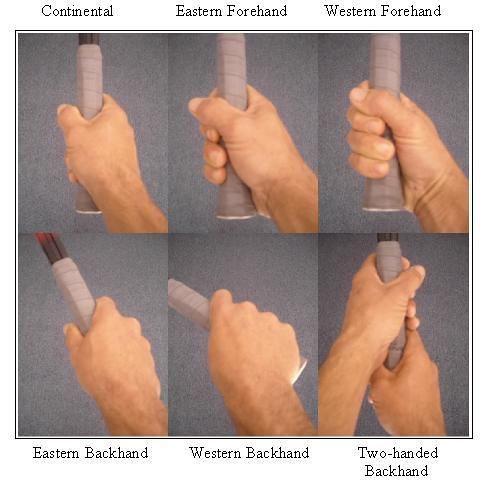 the grip.
So when you hold your tennis racket in the Eastern backhand grip, it would look like you are making a fist towards the ball.  Or another similar description is the way you grip a handlebar of a bike.  However, there is a lot of wiggle room with this grip and some prefer the knuckle of the index finger on bevel number 2.  Others prefer to slightly fan the hand in such a way that it doesn't' look dead straight across.
As long as the knuckle is either in bevel 1 or 2 positions, this would be considered as an Eastern backhand grip.  If you are a beginner, you should try which one suits your style of play as there is no one-size-fits-all when it comes to most of the handgrips in tennis.
The backhand shot in tennis is made by swinging the racquet coming from the left side of your body (if you're a right-hand player). Of course, that's with the back of the hand facing towards the ball.
Pros
Gives players more control of the ball
Easy to transition from this grip to a Continental grip
Ideal for players who like charging at the net
Cons
Difficult to use for higher shots
SEMI-WESTERN GRIP
While a lot of professional tennis players use the Eastern grip for their forehand groundstrokes. The Semi-Western Grip is undoubtedly the most popular grip that most tennis players prefer.  Whether an amateur or a professional player, this grip is used especially in doing a top-spin with lots of power.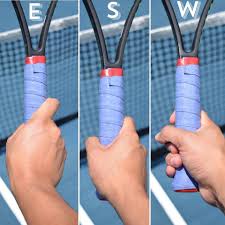 A topspin is when you describe the forward rotation of the tennis ball.  Since the net is at the center of the court, a topspin gives you room for error in executing his shots. Topspin brings your shots down toward the ground quicker. So players can hit the ball higher over the net towards the opponent's side.
For you to execute the Semi-Western grip, the knuckle of your index finger and the heel of your palm should be both in the bevel number 4 position.  Since topspin is created by your accelerated upward motion towards the ball, this position wherein the hand is basically underneath the handle allows for easier acceleration.
Pros
Enables the player to create topspin and power
More control and good for safety plays
Cons
Difficult to use for lower shots
WESTERN GRIP
The Western grip is also used for making topspin shots but this is a type of grip that is losing popularity because of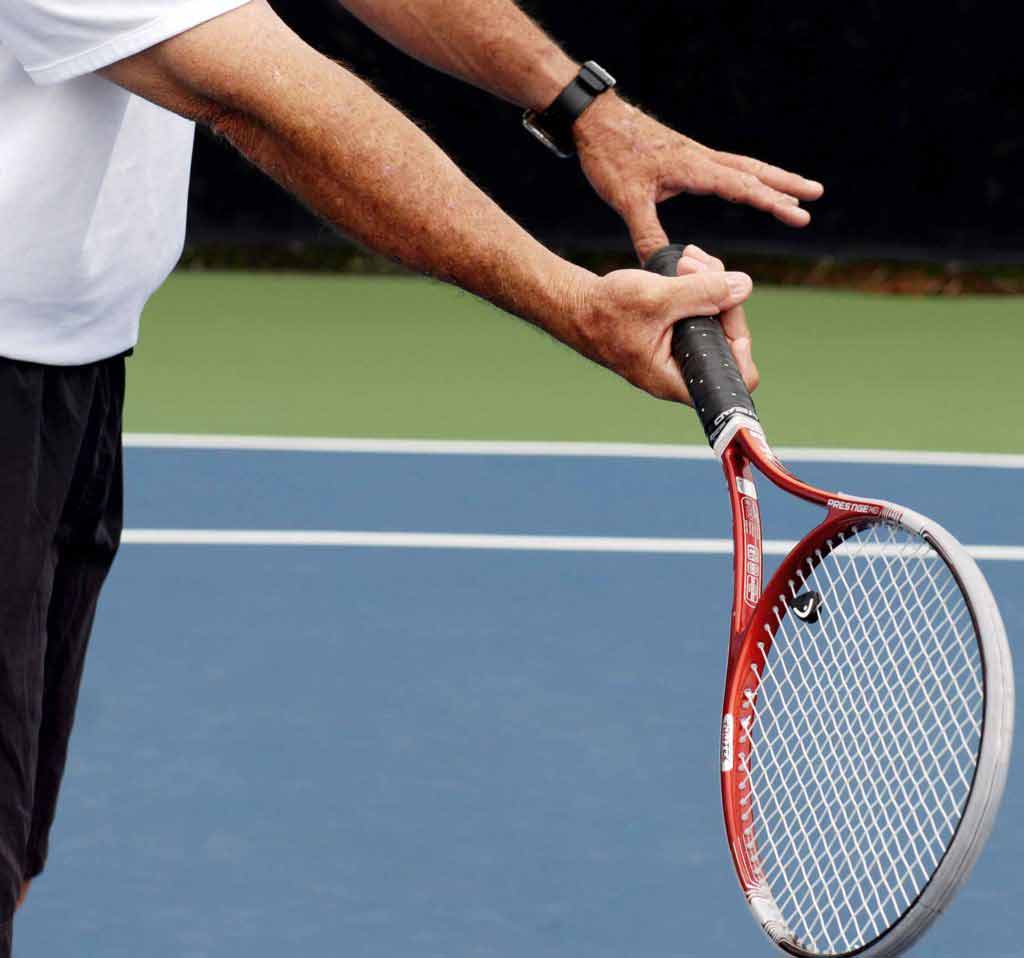 the lack of consistency.  It's also the hardest grip to transition to another grip.  A player's ability to change grips during gameplay is crucial to allow flexibility in doing different strokes.
The full Western grip is when your index finger knuckles and heel palm is in the 5th bevel of the racket.  Most professional players nowadays shun this grip because of how it restricts the movement when doing a forehand.
But there are still professional players who use this grip as it enables them to create incredible topspin with shoulder-length shots.
Pros
Incredible topspin compared to all the other grips
Balls bounce high and faster once hit
Cons
Hardest of all grips to transition to another type of grip
Not ideal to use for tennis courts with fast surface
An awkward and difficult position to return low balls
FINAL WORDS
Holding a tennis racket with the correct grip is very important especially for beginners who want to excel in the game.  Bad form leads to bad habits which is harder to correct later on.  That is why in most racket sports, this is the first fundamental technique that is you should learn.
Coaches will make sure that their players learn and apply these grips before they are taught the other fundamentals.  This is just as important as your footwork and proper stance.
Once you become familiar with how to hold a tennis racket correctly, it will soon become second nature for you, and changing from one grip to another will be automatic.
The best way that you will learn is always through consistent practice.  It may be hard at first especially if it's your first time holding a tennis racket. The next time you watch a professional game of tennis, observe attentively. All the professional and seasoned tennis players started by knowing the basics too and worked their way up.
And now that you know how to hold a tennis racket properly, you will be amazed at how easy it is to do once you get the hang of it.
Good luck with your tennis journey!