As an Amazon Associate I earn from qualifying purchases.
Since more than a hundred years, a company has been serving us with its high-quality equipment in the world of tennis. A company that was emerged for players of different levels of expertise.
We are talking about Wilson. This company has pulled off triumph with its products including tennis racquet.
And, if you are someone looking for a great racquet, then Triumph can be the best pick.
It features a lot of benefits that impressed almost all the players who used the racquet.
If you don't believe it, then why not check the write-up?
We can assure you that after going through this Wilson Triumph Tennis Racket review, you will think of having one!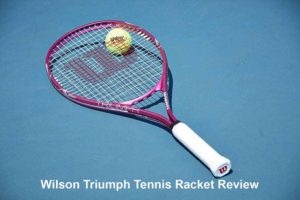 Features of Wilson Triumph Tennis Racket 
Materials
The brand is able to make you achieve triumph with its high-quality model that made us go for a Wilson Triumph Tennis Racket review. It has been made of Airlite Aluminum alloy that possesses all the qualities to make it great. Since the material is cheap, you will find the racquet at a cheaper price.
Moreover, you will also get to enjoy a moderate amount of feel and power through the material. To add more, the Triumph also offers durability and lightweight along with better repulsion.
With such material, the racquet can provide you with better rigidity as well for twisting forces caused by the impact. Plus, you will also love its ability to endure string tension.
Talking about strings, they are made of synthetic gut material. It is a nylon-based material that offers longer durability than other materials. Not only it can last longer but also can endure hard hit of the ball.
Weight
Triumph comes with the strings fixed to the frame. It has a weight of about 274 grams but without the strings. As strings add more weight of 35 grams approx. to the body, you will find the total weight coming in around 309 grams.
The weight range that this racquet falls into is more on the lightweight side. And since it will be very light to hold, you will get to enjoy a lot of perks such as easy maneuverability, more control with zero worries of getting fatigued or having pain in your hands.
As a result, the brand has ensured comfort to make this model a recreational racquet especially for beginners.
Size and Length
Wilson provides you with an oversized head through this Triumph racket. The head size measures 112 square inches. It means you will get to enjoy the biggest sweet spot with the racquet. And bigger sweet spot means you will have lesser mishits whenever you try to strike the ball.
Not only that but coming in oversized also adds spin to the ball making you have more control of the game. Plus, you can also give a shot efficiently by generating more power, thanks to the oversized head.
However, a little issue is that since the weight will be more on the shaft, you may find it a bit hard to maneuver the body. But that should not be a big deal since you can triumph that weakness after you grasp the skill.
As for the length, the Triumph measures 27.5 inches long which is a more ideal size for beginners.
You will also be having both reach and forgiveness with its dimensions which is a great thing.
Design
The Triumph has been designed with V-matrix technology so that it can provide you with a bigger sweet spot. Hence, you can have an effective shot each time you hit the ball. Moreover, it also allows powerful strings with more forgiveness that beginners would love to have.
The brand has also added Stop shock sleeves to the racquet so you can enjoy a comfortable strike with reduced vibration.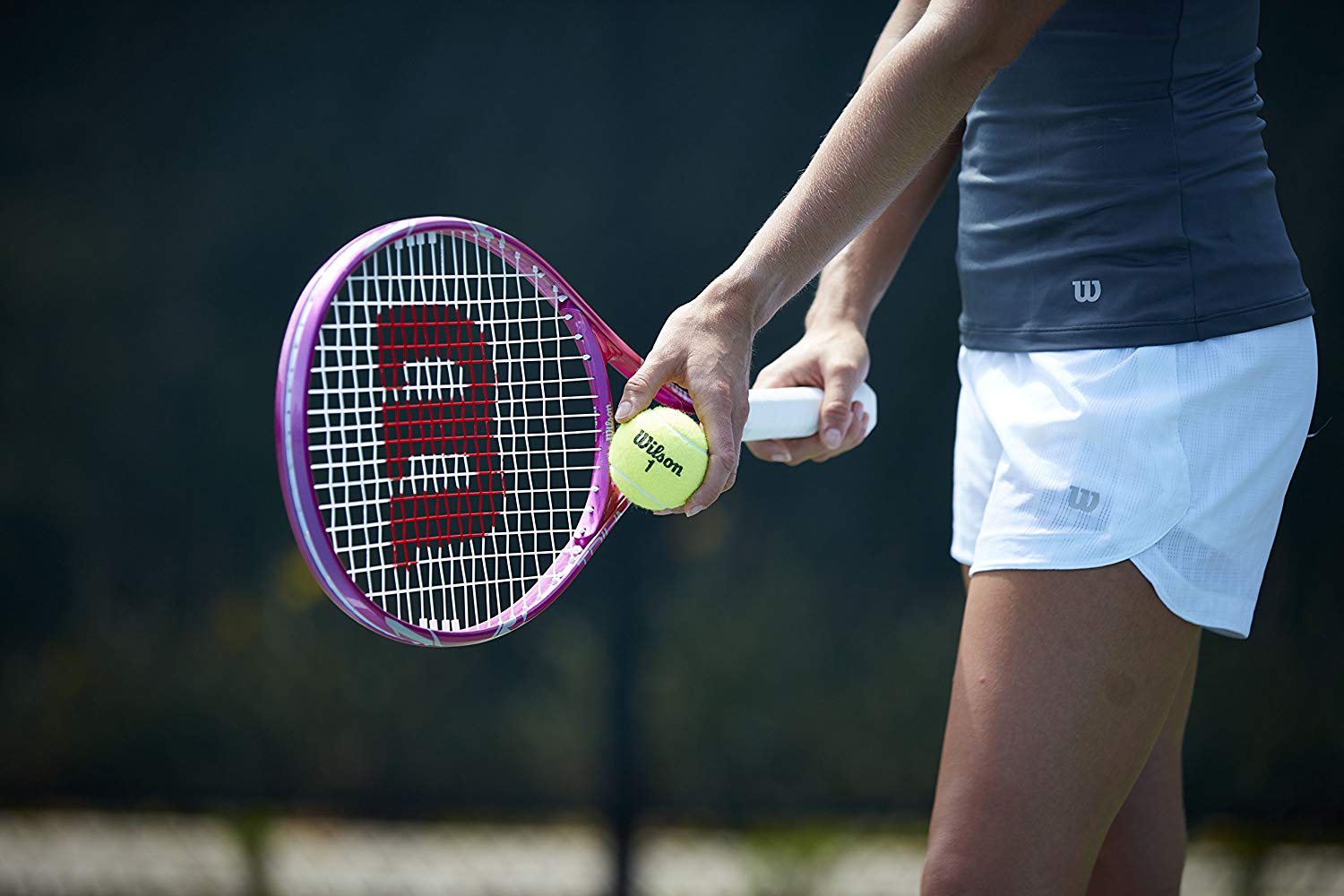 Head Balance
Wilson made the Triumph with head light balance. Since it has been designed for recreational purposes and for beginners, the head light balance was meant to be there.
Moreover, you will also find it easy to defend with such a balance point since it's weight is focused on the shaft and that it lets you react quickly to the shots.
Not only that, the control that was absent for the oversized head, the lightweight head makes up for it. So, all in all, you will find it very easy to maneuver.
However, the only issue is that you will be required to have more effort in generating the power while you use the racquet.
Otherwise, this is a great model to play a quick and attacking match even as a beginner.
Grip and Its Size
You will love to hold the Triumph firmly with its grip. The material chosen for the grip is of high quality and hence it will not slip through your hands when they will get all sweaty. This is rather another big reason to write a Wilson Triumph Tennis Racket review.
As for the size, the US size will measure in 4.25 inches while the Euro size will come in 2. If you have smaller hands, the racquet can make an ideal choice.
Meanwhile, if you have bigger hands, you can modify the shaft and thicken it. All you have to do is, adding layers of grip tape. That's it.
About Wilson
Wilson is basically headquartered in Chicago, Illinois, hence it's an American based company. Thomas E Wilson founded The Wilson Sporting Goods Company (WSGC) about 106 years back in 1913. It was started as Ashland Manufacturing Company and later changed to WSGC.
Since 1989, the Wilson has been a subsidiary of the Finnish group Amer Sports after they merged with Bogey Acquisitions Company.
Currently, Wilson is widely known for manufacturing equipment of sports that include tennis, soccer, racquetball, squash, golf, fast-pitch softball, basketball, baseball, badminton, football, and volleyball.
Advantages:
V-matrix technology offers a bigger sweet spot.
Oversized head offers an effective ball strike.
Stop shock sleeves help reduce vibration for comfortable play.
Comes in a cheaper price range.
Material is light enough to offer easy maneuverability.
Can be played for several hours without feeling fatigue and pain in hands.
Offers a decent amount of feel and power.
Offers better rigidity during torsional forces.
Able to endure string tension.
Strings are more durable than rivals.
Easy to generate power and forgiveness.
Great for beginners and recreational purposes.
Easy to swing through the air for head light balance.
Great for players with small-sized hand especially.
Disadvantages:
The brand offers more control.
Requires more effort to generate power while hitting the ball.
Grip size may not suit many players with different sized hands.
The shaft weight can make it a bit tough to control the racquet with ease.
Frequently Asked Questions:
Q: Can you give me detailed specifications of the racquet?
A: Here are the detailed specifications of Wilson Triumph Tennis Racket:
Head Size: 112 square inches.
Length: 27.5 inches.
Strung Weight: 309 grams
Head light balance, 9 points.
Composition: Aluminum Alloy.
Power Level: Medium.
Stroke Style: Medium.
Swing Speed: Medium
Grip size: 4.25 inches.
String Pattern: Open, 16 Crosses, and 19 Mains.
String type: Wilson Ultra Synthetic Gut
Pre Strung.
String tension: 16g
White and fuchsia pink.
V-Matrix Technology
Stop Shock Sleeves
Q: How much does the Wilson Triumph Tennis racket weigh?
A: The racquet weighs around 274 grams unstrung and 309 grams strung. Hence, it is stated to be a lightweight racquet for beginners.
Q: Does the racquet come with a cover?
A: No, the racquet does not come with a cover.
Q: Is the racquet for males or females?
A: The Wilson Triumph Tennis Racket has been designed for both males and females. So, basically it is a unisex racquet. However, we would suggest you to try holding the shaft of the racquet at first to understand the grip. If you feel comfortable holding it, then you can step ahead to buy it. But if you don't get enough comfort, then it's advised to think twice.
Q: What is 16/19 string pattern?
A: Wilson Triumph Tennis Racket features a 16/19 string pattern. It is an open style pattern that has less horizontal and vertical strings. It means, the racquet will have more gaps in between that will help add more spin to the ball. Since close style pattern tends to bite into the ball, many players prefer open pattern for spin creation.
Wrap up!
Wilson Triumph Tennis Racket has managed to impress all the players with its quality and performance. Since it has been designed for recreational purposes, you can even have fun with your opponent while playing the sport with the Triumph.
As you have already made it here, we can guess you have read both the positive sides and the negative sides. As it provides you with more advantages and almost avoidable disadvantages, it should deserve to be with you.